Yamaha PSR Keyboards Reviewed & Compared
Searching for a Yamaha PSR keyboard? I'll help you choose one that meets your needs.
They come in two categories. There's the PSR E series for beginners and the PSR S series for professionals. Obviously, the S series of keyboards is more expensive than the E series. 
Highly Recommended: Go here for the BEST piano/keyboard course I've seen on the Internet.

The newest models are as follows: 
Beginner PSR E Models: 
- Yamaha PSR-E243
- Yamaha PSR E343
- Yamaha PSR E433 
Professional PSR S Models:
- Yamaha PSR S750
- Yamaha PSR S950 
First of all, let's take a look at the Yamaha PSR E series.
If you're a beginner, you may want to look into buying either the Yamaha PSR-E243, PSR-E343 or PSR-E433.  The PSR-E243 sells for $99.99, PSR-E343 sells for $159.99, while the PSR-E433 sells for  $249.99.
If you can afford it, by all means go for the better, more expensive PSR E433. But if budget plays a big factor in your purchase, the cheaper models are worth checking out. These PSR E keyboards are great for students, children or anyone who is just starting out on keyboards. They're a source of inspiration for beginners. 
One good reason to buy a cheaper model is uncertainty. If you are not sure whether a child or student is serious about learning to play keyboard, by all means buy the lower priced PSR E243, or even a PSR E343 for that matter. Later on, if person shows a clear sign of interest, you can invest in a more expensive model.  
All Yamaha PSR E keyboards come with a very important feature called the Yamaha Education Suite (Y.E.S.). This feature, with its step by step lessons is great for learning how to play songs. 
These keyboards have only 32 notes of polyphony, but  that's enough for a beginner. Polyphony is the number of notes that can sound at the same time before notes start cutting off.
My disappointment with the PSR E243 is the lack of the touch response feature. This is a very important feature for anyone learning to play the piano. What this means is that the harder you press the keys, the louder the keyboard gets, similar to a piano. For this reason, you're better off with the PSR E343, or if you're willing to pay more, the PSR E433.
Follow the links above to read reviews and learn more about these Yamaha PSR keyboards.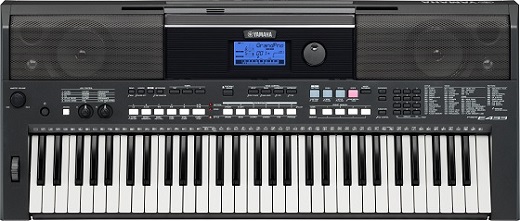 Let's now look at the Yamaha PSR S series.
Professional players may want to look into buying either the PSR-S750 or PSR-S950 arranger workstations. These keyboards are in an entirely different league, as their prices would suggest. The PSR S750 sells for $1,199.99 while the PSR S950 sells for $1,899.99.  They are the best  and newest PSR keyboard models available today.
The two keyboards  are similar in terms of their sound and capabilities, but the more expensive S-950 has more features. The S-950 has more voices, featured voices, styles, drum kits and effects. If money is an issue you'll miss out on some great additional features but still have a remarkable keyboard (the PSR S-750). If you've got the extra 700 bucks, by all means go for the PSR S-950.
These arranger keyboards have more polyphony, better, more professional sounds, multi-track recorders, professional accompaniment styles (great for one man bands), and lots of other professional features. This is why they cost so much more than the E series. 
Read the reviews to learn more about them.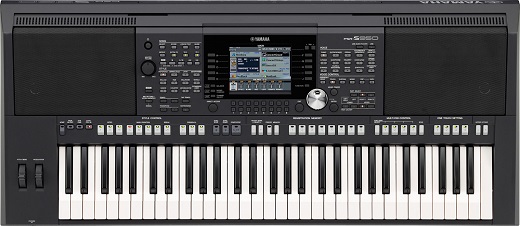 Older Models (Now Replaced by Manufacturer)
I have added a list of some of the best places for buying keyboards. Go here to shop for a Yamaha PSR keyboard of your choice.
Go here for more music keyboard reviews.
Old PSR Keyboard Reviews (The following portable keyboards have been discontinued by Yamaha.)