Yamaha PSRE213 review
Yamaha PSR E213 review
Let's talk for a moment about the Yamaha PSRE213 keyboard. This is an entry level keyboard. If you're looking to buy a gift for a child who is just starting out you may consider this one. Great for someone who is on a budget. You can probably get it for about 100 bucks online. A basic keyboard with fair enough features for the price.
Highly Recommended: Go here for the BEST piano/keyboard course I've seen on the Internet.

Let's talk about some of the features that the keyboard comes with.
Firstly, I'd like to talk about the piano voice or the portable grand feature. I like how easy it is to reset the entire keyboard to a portable grand piano no matter what settings you may have had. With the touch of the Portable Grand button you'll be ready to practice piano. If you're a student learning piano, you will find this very convenient. You will also love the fact that there's a sustain pedal jack and headphone jack at the back.
If you're looking to buy this keyboard for a student, you may just be on the right track, thanks to a feature called Yamaha Education Suite. It's important to have a teacher when learning to play piano, but thankfully, the Yamaha Education Suite feature takes your education several steps further. You'll be able to learn how to play even when there's no teacher around. This feature includes three keyboard lessons for each hand, lesson grading, and a chord dictionary. There's a total of 102 built-in songs for you to learn to play.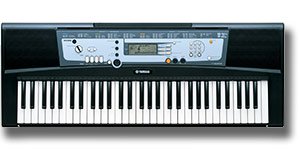 And since the keyboard was designed with youngsters in mind, you won't go wrong with the sound effects kit it comes with, including contemporary Hip Hop effects. Groovy effects such as these should keep your kid motivated and interested.
Most of today's keyboards have computer connectivity. The most basic keyboards are General MIDI compatible. The PSR E213 portable keyboard is both General MIDI and XGlite compatible. It can communicate with other keyboards, computers, and MIDI devices. You will be able to access thousands of online MIDI songs. The keyboard has MIDI In and MIDI Out.
Yamaha's auto accompaniment styles have always been a favorite of mine. The Yamaha PSRE213 comes with 100 of these. In addition, there are 375 voices to choose from. You can choose from an extensive range of nine, top-quality reverb effects as well.
How about polyphony? In case you're new to this, polyphony has to do with the number of notes that can sound at the same time and so the more polyphony a keyboard comes with the better. Well the Yamaha PSR E213 comes with 32 notes of polyphony. You may think that this is not much, but for a keyboard in its price range, I am very pleased. An with 16 part multi-timbrel you can't go wrong. This means that it can play back 16 different parts or sounds at once.
Overall, this a pretty good keyboard for beginners. You can buy it here. Be sure to compare it to other keyboards in its price range before deciding. 
Not sure what is right for you? Learn how to choose a keyboard here.