Yamaha PSRE403 Review
This page discusses the Yamaha PSRE403 portable keyboard. If you're a beginner looking for a keyboard that sells for under $250, one that is loaded with new features, read on. The Yamaha PSRE403 comes with as many as 155 styles, 32-note polyphony and 504 voices.
Highly Recommended: Go here for the BEST piano/keyboard course I've seen on the Internet.

I've always been a fan of Yamaha's keyboard styles. I believe it is a good way to be introduced to various genres of music. You simply change the chords with your left hand and play with the right. And if you're an absolute beginner who hasn't learnt how to play well with both hands the Yamaha PSR E403 comes with a feature called Yamaha Education Suite. This can provide you with the keyboard lessons or practice you need.
32 note-polyphony is enough for a beginner. (Polyphony refers to the number of notes that can play at the same time.) So in that department there's nothing to be concerned about. The polyphony may be a slight problem when you start to sequence. You may not be able to put in as much music as you want to and you may have to keep your music rather simple. But then again a beginner doesn't have to worry about that.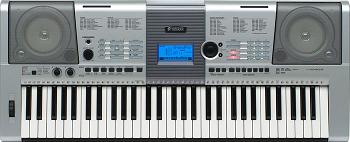 The Yamaha PSR E403 comes with many other impressive features such as 2 real time control knobs, 50 different arpeggiator patterns, USB, PC button and Flash ROM, 504 XGlite/GM voices, cool sounds and grooves, and backlit display and panel lights. With 504 voices, you won't be limited in the choices available to you. The pitch bend wheel will come in pretty useful on the PSRE403. There's also 30 internal songs, and 70 more on CD, headphone and sustain pedal output jacks, a two-way stereo speaker system, as well as a music rest.
I like the dual and split modes feature on this keyboard. With dual mode you can layer two voices together - example piano and strings. Or you can use split mode to split the keyboard in two and play bass with the left hand and piano with the right hand for example.
The Yamaha E403 was made available since June, 2006. It sells for about $230. Check out newer Yamaha PSRE keyboards here.
Top of Yamaha PSRE403 page.

Yamaha Keyboard Reviews Home Page