Yamaha PSR-OR700 keyboard Review
Yamaha PSR-OR700 Review
Here's my review of the Yamaha PSR-OR700 Portable Keyboard.
This is not your regular keyboard. It's different to any other Yamaha keyboard that has ever come to the USA. This arranger workstation is specially designed for lovers of Mediterranean, Middle Eastern and Arabic music. It gives you the ability to play scales that differ from the Western system of music notation.
Highly Recommended: Go here for the BEST piano/keyboard course I've seen on the Internet.

If you are into this kind of music, or if you're a professional musician looking to explore your possibilities, the Yamaha PSR OR 700 will thrill you. For instance, you can play quarter tone notes, common to Arabic music. These notes fall between half steps on the Western keyboard scale.
Apart from the regular quality voices found on top-of-the-line PSR keyboards, the Yamaha PSR-OR700 includes Arabic, Maghrebi, Khaligi, Iranian, Turkish and Greek styles. And to add to that, oud, nay, sorna, mizmar, and watariyat voices are added. This allows you to create music with oriental scale tunings. 48 Oriental voices, 6 Oriental drum kits, and 146 Oriental styles are added to the regular collection.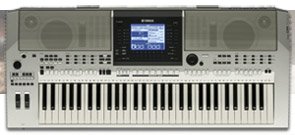 The Oriental Scales feature allows you to create your own scales. You can simply and easily raise or lower the pitches of specific notes and store your settings for instant recall. You can use different settings according to your preferences.
In addition to the Oriental voices and styles mentioned above, the PSR OR 700 comes with 317 panel voices, 480 XGlite voices, 16 Drum Kits, and 168 regular arranger styles.
You will love the organ flute features. Just like on a traditional organ, you can increase and decrease organ flute footages and add percussive sounds, thus creating your own original organ voices.
The PSR-OR700 comes with 61 full size keys with Touch Response, has 96 notes of polyphony, and weighs 25.5 lbs.
Other features on the Yamaha PSR OR 700 include a large 320x240 backlit LCD display, dual/split, Yamaha Education Suite for learning how to play keyboards , 16 track sequencer, flash USB device, MIDI In/Out + USB slave, Multi Pads, Music Database, speakers, 12W + 12W amplifier, and One Touch Settings.
There are 34 preset plus 3 user reverb, 29 preset plus 3 user chorus. There's DSP 1 which includes 191 preset plus 3 user, and DSP 2-4 which consists of 106 preset and 10 user. You will also find 17 harmony types.
Last time I checked, the Yamaha PSR OR 700 was being sold online for about $1300. If you're a lover of Mediterranean, Middle Eastern and Arabic music, by all means check it out here.