Yamaha PSR-S900 Review
Yamaha PSR-S900 Review
Here's my review of the Yamaha PSR-S900. This keyboard comes with 61 full-size keys with Touch Response. Last time I checked, it was being sold online for about $1,600. The price should give you an indication of the kind of keyboard we're dealing with here, because when it comes to keyboards, price is normally a good indicator of value. But is the Yamaha PSR S900 worth it? Let's see.
Highly Recommended: Go here for the BEST piano/keyboard course I've seen on the Internet.

The Yamaha PSR S900 comes with several outstanding features. I played the keyboard for a few hours at a musical instruments store and had a lot of fun with it. It comes with 392 voices and 19 drum/SFX kits, 480 XG voices, plus GM2, and GS.
Yamaha boasts about MegaVoice and Super Articulation technology on this keyboard. I had to see for myself. Needless to say that I was very impressed with these features. These features are probably what stood out the most for me as far as the Yamaha PSR-S900 is concerned. I liked how realistic the various voices and drum kits sounded. You could really hear the unique performance characteristics of the various instruments such as the breathy, legato phrasing of the saxophone, and the expressive finger slides on the guitar.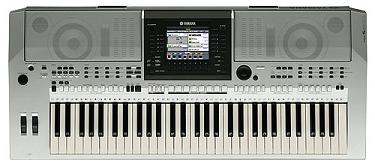 MegaVoice builds upon that and features multiple samples across the keyboard with sophisticated velocity switching. This results in nothing short of stunningly realistic sounds. With the MegaVoice feature, performance techniques are used along with the basic samples of the instrument. For instance, in a guitar voice one can hear techniques such as hammering effects, slide effects, dead notes, harmonics, strum noises, and open and mute string sounds.
The Yamaha PSR S900 comes with 23 Super Articulation voices, 15 Mega Voices, 22 Sweet! Voices, 26 Cool! Voices, 20 Live! Voices, and 10 Organ Flutes!
If you're into organ, you should love the fact that you can create your own original organ voices on the Yamaha PSR-S900. Just like a traditional organ, you can increase or decrease the flute footages and add percussive sounds to the various organ voices.
I tried recording on the Yamaha PSR-S900. It was very easy. Just connect a microphone or guitar to your keyboard and record your performance as audio data to a USB storage device.
And when you're ready to sing, how about adding some harmony to your voice? With a feature called Vocal Harmony, backup harmony parts are automatically added to your lead vocal corresponding to the chords that you play on the Yamaha PSR S900. You can even change the gender of the harmony voices. I find this feature very useful especially if you're into solo work. Great for playing live! There's also a video out for live performance or karaoke.
Then there's a Music Finder that instantly calls up the best-suited voices, tempo and accompaniment styles to match the music style or song name you want to play. No longer do you have to waste time choosing settings when you want to play in a particular genre of music. All you do is call up a song title and Music Finder does the rest.
The Yamaha PSR-S900 connects directly to the Internet, without the use of a computer. This takes place, thanks to a feature called Internet Direct Connection or IDC. You can easily download MIDI files to your keyboard.
The keyboard comes with a USB TO DEVICE terminal that allows you to save or load user songs and registered settings on a USB flash memory. You can also read data from the USB device.
Other features on the Yamaha PSS S900 include a 320x240 color LCD, pitch bend, modulation wheel, dual/split, 128 notes of polyphony, Music Database, Yamaha Education Suite, 16 track sequencer, LAN port, MIDI In/Out plus USB Slave, 2 speakers, and a 12W + 12W amplifier. As far as effects are concerned, there's 34 reverb, 29 chorus, 191 preset DSP 1, 3 user DSP 1, and for DSP 2-4 there's 106 preset and 10 user. There are 17 harmony types.
And how about the various styles? There's a total of 305 user styles - 281 Pro styles, 24 session styles, and MegaVoice Styles. There's a One Touch Setting (OTS) feature, with 4 for each style.
As you can see, this keyboard offers a lot. So it's all about your personal preferences and your budget. Be sure to read user reviews and compare to other keyboards before deciding whether or not the Yamaha PSR S900 is right for you. You can buy this keyboard here.

Not sure what is right for you? Learn how to choose a keyboard here.