Yamaha Keyboard User Reviews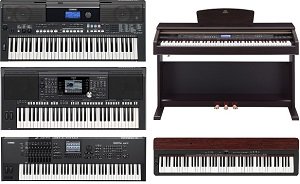 Yamaha keyboards and digital pianos
Yamaha-keyboard-guide.com is all about Yamaha keyboard reviews (as you may have noticed). I review all kinds of Yamaha keyboards including portable keyboards, digital pianos, arranger workstations, professional synthesizers and workstations.
But, now, I'd like to turn the tables on you.
Highly Recommended: Go here for the BEST piano/keyboard course I've seen on the Internet.

I would love to hear what you have to say about a Yamaha keyboard you own or have played. Other visitors would also love to hear your opinions. You can talk about your likes and dislikes about the keyboard.
Please use the form below to review a Yamaha keyboard, whether the model is new or old. Your review will be added to this site linked from the bottom of this page.
Be sure to check out the Best Yamaha Keyboard Deals Anywhere!
Have Any Thoughts On A Particular Yamaha Keyboard?
Do you have any views on a Yamaha keyboard you've played or own? Share your review with others.
Read Other Yamaha Keyboard Reviews
Click on the links below to see some great keyboard reviews. They were all written by other visitors to this page.