Yamaha PSRE313 review
Yamaha PSRE313 review
In a previous article we talked about the Yamaha PSR-E213. Let's talk about what the Yamaha PSRE 313 has that the PSRE-E213 doesn't?
The Yamaha PSRE313 comes with step-up features such as an expressive piano-like touch, a backlit LCD screen, a 2-track recorder, bass ports, dual and split functions, and Flash ROM. The keyboard also comes with as many as 482 GM and XGlite voices while the PSRE-213 only has 375. It includes 9 digital reverb and 4 chorus effects. There's a total of 106 accompaniment styles as opposed to 100 on the PSRE213.
Highly Recommended: Go here for the BEST piano/keyboard course I've seen on the Internet.

So if you were to buy this keyboard, you would get all the features that the 213 comes with plus the additional features mentioned above. At the end of the day it's all left to you. If you've got the extra cash and you want to get something better, then by all means go for it. Last time I checked, the Yamaha PSRE313 keyboard was being sold for about 150 bucks. That's 50 bucks more than the Yamaha PSRE-213.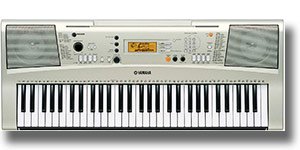 If you're buying your keyboard with piano in mind, then you need a keyboard that responds like an acoustic piano. One that comes with a touch response feature. If you strike the keys hard, a loud sound should result. Striking it softer should produce a softer sound. Thankfully, the PSRE-313 comes well equipped.

One feature I find very handy for such an entry level keyboard is the 2-track recorder. I also like how easy it is to use it. You can record two parts and then play along with it. Record up to 10,000 notes per song with a 5 song capacity. This is also a great practice tool. You can record yourself and listen for your mistakes.
Another favorite of mine would have to be dual and split features. With the dual feature, you can play two sounds simultaneously. You can layer the ever popular piano and strings for example. Or you can choose to split your PSRE313 and play one instrument sound with the left hand and another with the right. How about bass guitar in the lower register and piano in the higher range of your keyboard.
The Yamaha PSRE 313 is a pretty decent keyboard. It's affordable, and suitable to students and beginners. Compare it to others in its class and make a choice. You can buy it here. Not sure what is right for you? Learn how to choose a keyboard here.