Yamaha PSR 550 Review
Yamaha PSR 550 review and buying guide.

What I particularly like about this Yamaha PSR keyboard is the piano, electric piano and the fact that it has sixteen recording tracks and a disk drive. For the money that the Yamaha PSR 550 costs, it really delivers. Of all the Yamaha PSR keyboards mentioned on this site it is my favorite.
Highly Recommended: Go here for the BEST piano/keyboard course I've seen on the Internet.

Allow me to list a few of the main features that this keyboard comes with, so as to give you an idea of what you're dealing with.
Some of the nice features that this Yamaha keyboard comes with include 100 accompaniment styles, 25 harmony types, 8 reverb, registration memory and 26 multi pad sets. It also includes 690 voices, chorus plus 3 DSP simultaneous effects, sustain jack, headphone jack, pitch bend wheel, aux out and a To Host connector.
The Yamaha PSR keyboard has always been a favorite of mine and the Yamaha PSR 550 is no exception. There are a few Yamaha PSR keyboards which I would probably never buy, but I don't think I could ever say the same about this one.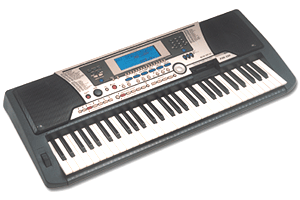 This keyboard may not have the hammer weighted action that Yamaha digital pianos have but its synth action is certainly quite impressive. I like the fact that you can adjust the sensitivity to suit your preferences.
Apart from a good piano and electric piano, the Yamaha PSR550 has a lot of sounds which are quite good, such as strings, flutes, basses and so on. This is obviously very important in a musical keyboard. As far as I'm concerned, a keyboard can have 1000 features but if the basic sound is not up to scratch, it's pointless.
Something else which I like is the fact that you can compose your own drum beats and accompaniments. With some Yamaha PSR keyboards you have to take what you get, but this one allows you to compose almost anything you want. With the quantize feature, you can ensure that your beats are tight and in perfect timing. I don't know what I'd do if somebody had never thought about inventing the quantize feature.
The PSR 550 is definitely one of my top recommendations for someone looking for a good and reliable portable keyboard. I just love this Yamaha keyboard! No matter what your level is, you would probably like it too. Although I understand that everyone has their own choices and opinions. Click here to learn about newer Yamaha PSR keyboard models.
 Return to yamaha psr keyboard page.

Return from yamaha psr 550 review to yamaha keyboard home page.