Yamaha PSR175 Review
The Yamaha PSR175 is a very good entry level keyboard. If you're just starting out there is probably no need to spend too much. You can save a lot of money by buying this Yamaha PSR keyboard. What's the point of paying for features that you will never use? Are you a beginner or student? With advanced features like the Portable Grand™, you'll be absolutely delighted. With one touch of this button your keyboard will be reset to the finest on-board piano. It doesn't matter what settings you previously had. This feature is truly convenient and also time saving. The Portable Grand stereo-sampled piano is really awesome. 
Highly Recommended: Go here for the BEST piano/keyboard course I've seen on the Internet.

As a beginner or student you will find the Yamaha Education Suite™ feature truly useful. This feature is about one thing: helping you learn to play. This is one advantage this low-priced keyboard has over more expensive models. It actually helps you develop. Buy a more expensive model and you're on your own. This feature includes three lessons for each hand. Your progress is monitored as you practice and there's even a chord dictionary.
The Yamaha PSR175 keyboard comes with 100 built-in songs with song book. You get 100 accompaniment styles. You can select a style of music from the 100 different styles that your keyboard comes with and play along with it. For example you can change chords by holding one note with your left hand while playing a melody with your right hand. You will hear an entire accompaniment with bass, drums, piano, brass, strings and so on.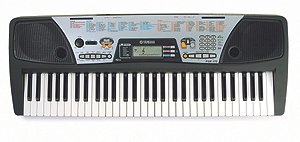 I like this feature very much. I must say that it helped introduce me to different genres of music. It also helped to make my early years of keyboard playing a lot of fun.
This Yamaha portable keyboard comes with more incredible features that I'm sure you'd like. We have only discussed a few. I like this keyboard.
Return to yamaha PSR keyboard page.

Return from yamaha psr175 to yamaha keyboard homepage.