Yamaha PSR1500 Review
The Yamaha PSR1500 is a professional high-end Yamaha arranger workstation.
It is part of the series that feature keyboards like the Yamaha PSR3000 and the Yamaha Tyros. If you're looking for a professional portable keyboard that leaves the competition way behind, this may just be what you need. The features of the PSR1500 are truly amazing. We'll discuss a few of them here.
Highly Recommended: Go here for the BEST piano/keyboard course I've seen on the Internet.

Forget about keyboards that come with 32 or even 64 notes of polyphony. These keyboards are not really for professionals. Although they have track sequencers these sequencers don't function adequately. Notes begin to cut off as soon as you add a few tracks. But with 96 notes of polyphony, you'll be all set to do some real sequencing.
One feature that surely stands out is the Organ Modelling feature. This comes with virtual drawbars and Cool and Sweet voices. The Yamaha PSR1500 keyboard has 793 voices and 16 drum kits. I listened to many of the voices on this keyboard and was impressed with the quality, particularly the Cool and Sweet voices.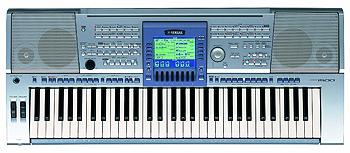 I've always been impressed by the styles that Yamaha keyboards come with. And the PSR1500, being a professional portable keyboard, is a leader in that department. Reminds me of my days as a one-man-band. At the time I had a Yamaha PSR4000. I would simply play chords in the left hand, play other parts in the right hand and sing along, and that was it. It really made my music sound rich. It's like I was being accompanied by an entire orchestra. Well with 210 styles including 3 intros, 3 endings, 4 variations, and 4 fill-ins per style, the Yamaha PSR 1500 won't disappoint.
And with a 16-track sequencer you know that there is a lot you can do with this keyboard. The PSR 1500 delivers a total of 32 tracks via USB. Other great features include backlit 320x240 LCD screen, SmartMedia slot, USB connector, direct to internet connection and pitch bend and modulation wheels. I like this keyboard. Click here for newer Yamaha keyboard models.
Top of Yamaha PSR1500 page.