Yamaha PSR-S700 Review
Yamaha psr-s700 Review
Here's my review of the Yamaha psr-s700 keyboard. This Yamaha PSR keyboard sells for about $1000 and comes with 61 regular-sized touch sensitive keys and 96 notes of polyphony. But what probably stands out the most is its Mega Voice technology.
Highly Recommended: Go here for the BEST piano/keyboard course I've seen on the Internet.

With Mega Voice technology, you can expect nothing but stunningly realistic sounds in the Yamaha PSR S700. With this feature multi samples are used across the keyboard with sophisticated velocity switching. In addition to the actual samples of the instrument, the performance techniques are used as well. For instance, in a guitar voice one would hear techniques such as hammering effects, slide effects, dead notes, harmonics, strum noises, etc.
What's more is that these Mega Voices are used in the programming of the 205 internal accompaniment styles that the Yamaha PSR S700 comes with. If you're interested in more realistic performances, you won't go wrong with this keyboard. The Yamaha PSR S700 comes with over 800 instrument voices. Many of these voices come from high-end models. There are 14 Live! Voices, 18 Cool! Voices, 11 Sweet! Voices, and 10 Mega! Voices.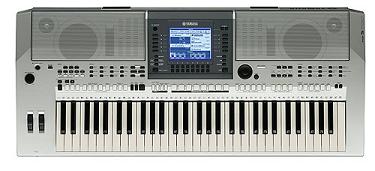 Another feature I really liked in this keyboard was the Music Finder. When you want to play in a particular genre but don't know which settings to choose just make use of the Music Finder. You will be offered the best suited voices, accompaniment styles and tempos to match the style of music you want to play. It's easy and great for live performance. Just select a song title and you're on your way. You can even download additional free Music Finder records on the Internet.
And talking about the Internet, with a feature called Internet Direct Connection (IDC) you can connect your instrument directly to the Internet without a computer and download your favorite songs in MIDI format.
You surely can't miss the organ features on the Yamaha PSR-S700. Just like on a real organ, you can increase and decrease organ flute footages and add percussive sounds. This means that you can create your own original organ voices. If you use organ voices a lot or if you're interested in pursuing this, you will be delighted with such a feature.
I was also impressed with the large LCD display. It shows the song notation of a MIDI file (score) as well as lyrics (for MIDI songs that have score and lyric data).
Another noteworthy feature on the Yamaha PSR S700 is One Touch Settings (OTS). There are four One Touch Settings for each style. All you have to do is press one button for the perfect instrumental setting you're looking for.
The keyboard has a USB TO Device terminal that allows you to connect storage devices like FDD and hard drives. You can easily save or load registered settings and user songs created on the Yamaha PSR-S700.
Other features on the Yamaha PSR S700 include pitch bend and modulation wheels, dual/split, large 320x240 display, Yamaha Education Suite for learning how to play keyboards, 16 track sequencer, 17 harmony types, and a powerful Bass-Reflex-speaker system . There are 34 reverb, 29 chorus, 191 DSP1, and 106 DSP2-4 effects. These all come with additional user efects. There are 193 pro, 12 session and user styles. The Yamaha PSRS700 has 317 voices, 16 drum, 480 XG, 265 GM2, and 235 GS. It weighs a total of 25.3 lbs.
Lots of impressive features on this keyboard I must say. Not bad at all for 1000 bucks. But be sure to compare it to other keyboards before making a purchase. At the end your research will be well worth it.
Click here to check out the Yamaha PSR S710.