Yamaha PSR 290 Review
The Yamaha PSR 290 includes a number of outstanding features. One of them is the powerful Portable Grand feature. With the press of a button you get a rich piano sound that is truly remarkable.
Do you like a musical keyboard which comes with more than just a few basic sounds? Then you should be delighted to know that this keyboard is loaded with as many as 605 sounds. It is equipped with Yamaha's Advanced Wave Memory (AWM) technology, one that is known to deliver stunning musical instrument sounds. It also includes 135 impressive rhythm styles that can surely take your music to a higher level.
Highly Recommended: Go here for the BEST piano/keyboard course I've seen on the Internet.

Beginners and students will find the Yamaha Education Suite 2 feature a real blessing. There is no need to worry about whether or not you have the required skill to play this instrument because your music education is integrated into it. You get 7-step piano lessons and you can learn from 100 built-in songs or songs downloaded from the internet very easily. Imagine a musical keyboard that even grades your performance!
Achieve the full potential of your Yamaha PSR 290 portable keyboard when you connect it to a PC, another keyboard or any MIDI device. There is a PC button on your keyboard for easy connection. You can record on your computer, download song files from the internet and have your Yamaha PSR290 keyboard play them back accurately. The possibilities that this feature provides are endless.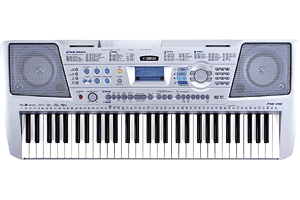 If you're interested in downloading songs from the internet, you would love the Flash ROM feature that the PSR290 comes with. It allows you to store up to 99 songs. With the on-board sequencer, you can record up to 5 songs, each having 6 tracks. There are headphone and sustain pedal jacks, 2-way speaker stereo speakers with bass ports, as well as a Music Database feature that gives you access to over 200 styles of music.
The Yamaha PSR290 is truly a great portable music keyboard.
Check out newer Yamaha PSRE keyboards here.
Yamaha PSR Keyboards Reviews

Return from Yamaha PSR 290 Review to Yamaha Keyboard Homepage.