Yamaha PSR E423 Review
Let's take a look at the Yamaha PSR E423 keyboard. If you're searching for a beginner's keyboard and you're on a budget, this one may be an option. It sells for about $229.99 online - pretty cheap. But despite its low price it rivals many keyboards in its price range. I compared it to Casio for instance and have to recommend the E423 instead. This may or may not be the right keyboard for you so read on.
Highly Recommended: Go here for the BEST piano/keyboard course I've seen on the Internet.

If you're starting out on keyboard or buying a keyboard for a child who's learning to play, the Yamaha PSR E423 may meet your needs. If you're not sure whether your child will continue to be interested in playing the keyboard it's usually a good idea to buy a cheaper model (like this one) and later on if s/he continues to show interest, make a bigger investment.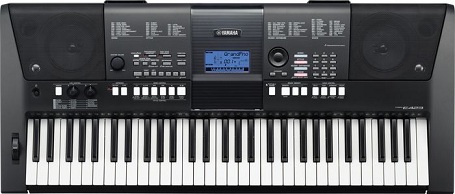 If weighted keys are an issue, look elsewhere because this one comes with light-weight keys.
So what does the Yamaha PSR-E423 offer?
Firstly, it is a 61 key keyboard. It has basic features for learning how to play, like the Yamaha Education Suite and the Yamaha Portable grand. With the portable grand button your keyboard will be in piano playing mode with a touch of a button. With the Yamaha Education Suite (Y.E.S.) you can teach yourself how to play the piano thanks to its many built-in piano lessons.
Ready to perform live? There are synthesizer control knobs for real-time control of effects, sound envelope, filter and style tempo. Looking for arpeggio voices and patterns, you will be happy with the keyboard's arpeggiator.
Let's take a quick glance at the features of the Yamaha PSR E423:
61-key Portable Arranger Keyboard
700 built-in voices — 183 Panel Voices, 462 XGlite Voices, 15 Drum/SFX Kits, and 40 Arpeggio Voices
Features Touch Response for added expression
Built-in 6-track, 5-song sequencer with Easy Song Arranger
Features Yamaha's built-in Education Suite with chord dictionary
Pitch bend wheel and optional sustain pedal jack help you express yourself
2 Control Knobs let you get you adjust effects with your hands
Reverb/Chorus effects plus Built-in EQ, Harmony/Echo Effects, and 150 Arpeggios
174 Accompaniment styles, including a range of World Styles
32-note Polyphony
30 Preset songs built in (30 onboard, 70 on a CD-ROM you can load from a PC)
Built-in 5W speaker system with enhanced bass response
Can be powered by an AC adapter or by AA batteries
Weight: 15 lbs., 7 oz.
One complaint I have is that the Yamaha PSR E423 doesn't have a decent output. You have to use the headphone jack which can result in a nasty hiss with high end sensitive speakers. Also I do not like the fact that you have to buy a power supply separately. I hate the fact that there's no USB cable. However, Yamaha offers the survival kit which you have to pay for.
Included in the Yamaha survival kit are:
Yamaha Power Adapter
Foot switch
Stereo Headphones
Hundreds of dollars of Rebate Coupons
Survival Kit DVD
Playing with Styles DVD
2-Year Extended Warranty
I also think that there is no need for so many combo voices. These could have been obtained via dual and split according to the keyboard player's taste.
Overall, I think this is a good beginner's keyboard for the price. Compared to other keyboards in its price range, it is non-toyish. It's ok for students and children as well as beginner adults on a budget. If you're thinking of buying or you want to learn more about the keyboard, check out the Yamaha PSR E423 here.
PSR-E423 Demo