The Yamaha PSR 1100 keyboard
The Yamaha PSR 1100 is the first in the line of Yamaha Arranger Workstations and has a huge array of outstanding features. These include a large LCD, USB connectivity, user memory, 4 sections to each style, 32 channels of MIDI and so on.
Highly Recommended: Go here for the BEST piano/keyboard course I've seen on the Internet.

Forget about small screens that can hardly convey any information. The Yamaha PSR 1100 comes with a huge LCD screen that shows a lot of information at once. You're able to view mixer settings, chords, sounds, styles, MIDI files, score lyrics, notes, etc. at a glance. When it comes to screens, bigger is better. It's no different with music keyboards.
There is no longer any reason for you to have trouble connecting your keyboard to a computer. With the USB port that the Yamaha PSR 1100 comes with, you should be able to make that connection very easily. By connecting your keyboard to a computer, there are very few limits to what you can achieve. You can copy data between your musical keyboard and your PC in a manner that is fast, easy and convenient.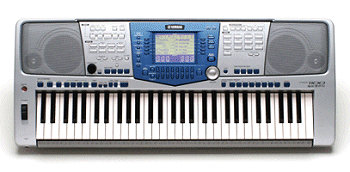 Forget the hassles of going to your music store to buy sheet music, and probably not even finding what you want. It's very easy and more convenient to download music from the internet. Just connect your Yamaha PSR1100 to your computer and transfer digital sheet music into it. Your lyrics are displayed on your keyboard screen while the music is playing. The keyboard can even play a Style of your choice - jazz, country, rock, dance, latin, etc.
Yamaha has added several tools to the PSR 1100 that make it very easy to use. These include a Direct Access button, Music Finder, a Quick Record button, One Touch Setting, Multi Pads, Built-in Help, Demo, Mixing Console and Registration Memory. All these features help you save quite a lot of valuable time.
If you're interested in commercially available song data, you won't be disappointed. The Yamaha PSR1100 is compatible with GM, XG, DOC, XF etc. It comes with 287 voices, 480 XG voices, 16 drum kits and has a polyphony of 32. You can select from Yamaha's Sweet and Cool voices. The keyboard includes a 2-way stereo speaker system with bass ports.
The Yamaha PSR-1100 comes with a 16-track sequencer, two foot pedal jacks, metronome, transpose and tuning, auto harmony and a CD ROM that contains USB Drivers and File Utility software.
Click here for newer Yamaha PSR keyboards.
Return to Yamaha psr keyboard page.

Return from yamaha psr 1100 to Yamaha keyboard home page.