Yamaha Keyboard Accessories
Yamaha keyboard accessories: top picks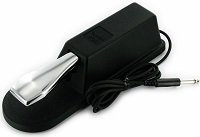 Yamaha FC4 Sustain Pedal
When it comes to sustain pedals, my top pick is none other than the Yamaha FC4 piano style sustain pedal. It is designed to work and feel like an acoustic piano's sustain pedal. I like the way the bottom of this sustain pedal grips the floor while I'm playing. If you've tried out different sustain pedals you should have come across those which you constantly have to put back into position. Well with the Yamaha FC4 sustain pedal, you wouldn't have that problem. It sells for about $25.95. It will work with any keyboard that has a polarity switch. You may like to compare it to models like the FC5.
Highly Recommended: Go here for the BEST piano/keyboard course I've seen on the Internet.

Yamaha keyboard accessories: Power adaptors
The Yamaha PA150 is a pretty good power adaptor. It replaces the PA5D. If your keyboard requires a 12V output you should check it out. It also works with many other Yamaha products. It is recommended for PSR293 and below, EZ20, EZ150, EZ250i, EZAG, EZEG, and DD35.
You can plug it directly into a 120V AC electrical outlet. The Yamaha PA150 power adaptor sells for about $24.95. There's probably no need to pay more. But be sure to compare it to models like the PA6.
Keyboard stands
Yamaha PKBZ1 Adjustable Z-Style Keyboard Stand
In search of a Yamaha keyboard stand? One of my favorites is the Yamaha PKBZ1 Adjustable Z-Style Keyboard Stand. It is specifically designed for PSR keyboards. Pretty secure. But look around first and decide whether it's right for you. Certain keyboard stands are specifically designed for particular keyboard models. You may also want to look into models like the Yamaha PKBS1, YKA7500, LP3, L7S, LW15, and L3C.
When it comes to accessories such as Yamaha keyboard cases and bags there are certain models designed specifically for certain instruments. They therefore provide a perfect fit. Take for example the Yamaha YCMOTIF7 hardshell synthesizer case for the Yamaha MOTIF7 keyboard and the YCMOTIF6 for the Yamaha MOTIF6 keyboard. Or how about the YBS03 deluxe gig bag for the Yamaha S03. You should look around so as to find the right fit for your keyboard easily.
It is often necessary to decide between a keyboard case and a keyboard bag. While a keyboard bag is so much cheaper it doesn't offer as much protection. But the disadvantage with a keyboard case is that it is very heavy. Choosing between the two will thus depend on your own circumstances.
Yamaha keyboard accessories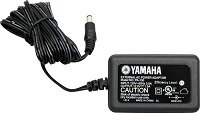 Yamaha PA150 Adaptor
Whether it's sustain pedals, Yamaha keyboard cases, keyboard stands, headphones, or power supply chords, you want to be sure that they are always available. You don't want to be left stranded when you need them. Some keyboard players even buy extra accessories just in case something goes wrong.
The good news is that these Yamaha keyboard accessories are readily available online. Just click here. Online stores such as zZounds can quickly facilitate you.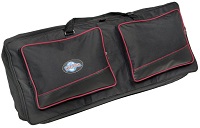 Yamaha Keyboard Bags
Acessories such as power adaptors and power cords can prove to be indispensable. As a child, the most frustrating moment was when my keyboard adaptor wouldn't work, and I couldn't play as a result. lol
Are you a gigging keyboard player? Imagine the frustration that can emanate out of not being able to play a gig just because your keyboard accessories are malfunctioning or not working entirely. This is why it may be necessary to have extra Yamaha keyboard accessories around. You don't want to get caught without them, ever!
Related articles:
Yamaha keyboard related articles:
Check online for Yamaha keyboard price before spending your money. 
Used Yamaha keyboard helps you save money.