Yamaha PSR 350 Review
Yamaha PSR 350 review and buying guide.
When I was just starting out on the keyboard I always longed for a keyboard with a sequencer. The cheesy Casio keyboards I had were always lacking in that department. I would have been very happy with a musical keyboard like this one.
Highly Recommended: Go here for the BEST piano/keyboard course I've seen on the Internet.

This is not the best of musical keyboards when compared to more professional Yamaha keyboards available today, but it is certainly not a toy. Although the Yamaha PSR350 doesn't come close to Yamaha keyboards like the Yamaha PSR550, it has some very nice features.
The sound is quite good, particularly the grand piano sound which Yamaha is so famous for. It comes with a built-in 3.5" floppy disk drive and the ability to write standard MIDI files to disk. It includes 32 notes of polyphony, the regular 128 General MIDI sounds, 480 extended voices, 100 accompaniment styles, 26 harmony types and 8 reverb types.
Although I like the fact that Yamaha has included a sequencer, I'm still not satisfied. A 6-track sequencer is just not enough for me. Compare that to the Yamaha PSR 550 which comes with a 16-track sequencer. Probably you may not really be concerned with too many tracks, especially if you're just starting out. But give me 16 tracks any day. Then again, the Yamaha PSR 550 costs more so this might not be a fair comparison.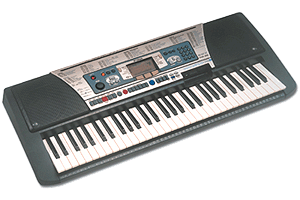 The Yamaha PSR 350 comes in very handy for piano lessons purposes. I'm talking about the advanced Yamaha Education Suite (YES) feature. I'd like to stress that this feature doesn't replace a music teacher but it is a good learning tool for students and a good supplement to piano/keyboard lessons. This is one of the advantages with a lot of Yamaha PSR keyboards and this one is no exception. I like this feature very much.
The PSR 350 keyboard is a good portable keyboard which combines playability, a learning tool and sound into one package. Whether you're a beginner, student or someone a little more advanced, you would probably like it. Shop for Yamaha keyboards here.
Yamaha PSR Reviews

Return from Yamaha PSR 350 review page to Yamaha keyboard home page.