Yamaha PSR 2100 Review
Find out about the incredible features of the Yamaha PSR 2100 keyboard.
If you are a true PSR keyboard or portable keyboard lover, I can't imagine you being disappointed with the PSR 2100. Just do a little browsing over the internet and you will realize that this musical keyboard is really a nice treasure. At least, I like it.
Highly Recommended: Go here for the BEST piano/keyboard course I've seen on the Internet.

The Yamaha PSR 2100 includes pro features such as USB computer connectivity, an LCD where you can view sheet music and a mic input with a vocal harmony feature. If you like 61-key keyboards with full size keys and touch response, you've found it. The PSR 2100 has got it! Make use of features such as an organ, flute voice with 8 virtual drawbars, music finder access, modulation wheels, pitch bend and Groove/dynamics function for your accompaniments.
If musical accompaniment is your thing, then you should be happy with as many as 3 intros, 4 fillings, 4 variations and 3 endings for every accompaniment pattern or style. You can check out the PSR2100 for yourself and decide whether it's right for you.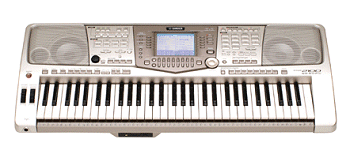 If you're interested in sequencing music, this Yamaha keyboard comes with a 16-track sequencer that allows you to have over 32 tracks over USB. With a 16-track sequencer, 64 notes of polyphony, 32 MB of wave ROM, MIDI I/O, onboard effects, internal speakers, 2 footswitch jacks, headphone out and L/R line out, the PSR2100 is certainly a reliable friend. After all, without great features, what use is a portable keyboard?
However, at the end of the day, you need to figure out whether you need all these features and make a decision based on that. With careful analysis you'll know what's right for you.
Shop for Yamaha PSR and portable keyboards here.

Return to yamaha psr keyboard page.

Return from yamaha psr 2100 review to yamaha keyboard home page.