Yamaha Portable Keyboards -
Which One Should You Choose?
Searching for a Yamaha portable keyboard? Well most of Yamaha's keyboards are portable, and that says a lot. It means that there are many keyboards to choose from. What do you choose? How do you decide on what to buy?
I shall list these keyboards in different categories to help you arrive at a decision. 
Portable Keyboards For Beginners
The first kind of portable keyboard we shall look at are those for beginners. 

Yamaha calls them PSR or YPT keyboards depending on the market they are for. For instance a PSR-E343 is the same as a YPT-340 except for some minor technical differences which can be ignored. PSR-E243 is the same as YPT-240.
Highly Recommended: Go here for the BEST piano/keyboard course I've seen on the Internet.

For an absolute beginner the choice would be between a PSR-E243, PSR-E343 and PSR-E433. The prices for these Yamaha portable keyboards are $99.99, $159.99 and $249.99, respectively. Which one should you choose? It all depends on, first of all, your budget. How much are you willing to spend? If money is no issue, then by all means go for the more expensive model. It is better and has more features. 
I don't particularly like the PSR E243 because of the fact that it has no touch response feature. Touch responses is a feature that makes your keyboard respond to how hard the keys are pressed. Press keys harder and get a louder sound. This is a must-have for anyone learning to play the piano. In that case, my advice would be to spend a little more and get the E343. 
The Yamaha portable keyboards above are great for absolute beginners to have fun, and to see whether or not they love to play. If they do, only then should you invest in a more expensive models like the ones we shall look at later.
A great feature of these beginner PSR keyboards is one called Yamaha Education Suite. It comes with a series of lessons and is great for learning how to play.
One issue with the PSR-E keyboards above is the fact that their keys are not weighted. If one is serious about learning to play the piano, light keys are not really recommended. With weighted keys students, can develop proper learning techniques from the start.
But as we've said it's a tricky situation. Keyboards or digital pianos that come with weighted keys  are more expensive. You don't want to spend hundreds or even over a thousand dollars on an instrument for a child who may have no interest in the piano. So by all means, if you're not sure, I'd say get one of the models above.
Another consideration is the fact that these keyboards come with only 61 keys. 61 keys are enough for a beginner. In fact even professional players use 61 keys as well. But for proper piano learning you need the real thing, an 88 key, weighted keyboard.
Since our topic is Yamaha portable keyboards, there are lots of portable (not too heavy) weighted digital pianos that you can choose from, as we shall see later.
Portable Keyboards For Professionals 
There is another kind of Yamaha portable keyboard. These form  part of the S series of Yamaha keyboards. They are more expensive than the E series which we looked at earlier. In fact they're in a totally different class. They are professional keyboards. There have been many on the market over the years, but the latest ones are the Yamaha PSR S750 and PSR S950. These sell for $1199.99 and $1899.99 respectively. The price alone says a lot about these keyboards. We can see that there is a huge difference in price between the beginner keyboards we just looked at and these.
These keyboards are great for "one man bands" in particular. Are you looking to play solo? These are some of the best keyboards you can buy. Thanks to their accompaniment feature you can sound like you're being backed up by an entire band. You can get that rich, full sound you're looking for with just one instrument. 
These come with 16-track sequencers, WAV audio recording, large LCD screen, lots of sounds, super articulation voices, mega voices and a host of other features. They're perfect for cocktail gigs, restaurants and so on. You really can't go wrong. Cheaper keyboards, while they have the accompaniment feature, they don't give you that quality sound you're looking for. Even keyboards like the Yamaha MM6 (for example) can't compare to these Arranger Workstations. While the MM6 has accompaniment capabilities it is not as advanced as what is found on the S series. It is a bit limiting.
Having said all of this, obviously, the Yamaha PSR S-950 is the better keyboard. But if you're on a budget you can get away with the cheaper model, the PSR S-750. Many of the sounds and capabilities are the same, but the S-950 has many more features. 
Mini Motif
But what if you're not into the one man band thing? What if you're playing with a band and are using straight sounds one at a time? In that case it's pointless buying  these arranger keyboards. I'd recommend keyboards like the MM6 which we talked about earlier, or the MX61. These come with many of the sounds of MOTIF keyboards and exclude all the bells and whistles. They cost so much less than the actual Motifs. Perfect for someone who is on a budget. 
One advantage of these keyboards is their portability. Both the MM6 (which I own) and the MX61 weigh less than 12 pounds. Great for moving from gig to gig. In fact my band players often joke around as to how light this keyboard is. I bought the MM6 a few years ago, but the newly released MX61 is much better. 
The Yamaha MM6 and MX61 are great for anyone looking for Motif sounds but is on a budget. They're great for someone who is not interested in sequencing capabilities but simply wants good sounds. If you're interested in a sequencer, the more expensive MOX6 is worth looking into. 
One criticism of the MM6, MX61 and MOX6 is the fact that they're all plastic on the outside. But looking on the brighter side, it's what makes them so light. Since you know they're fragile, you just have to take good care of them. 
The MX49 is also worth checking out. It is the same as the MX61 except for the number of keys, only 49 compared to the MX61's 61 key-keyboard. 
Portable Grand Keyboards 
Yamaha makes another type of keyboard called the Portable Grand. These are DGX or YPG keyboards. Like the PSR and YPT keyboards, don't be confused by their names. In certain markets Yamaha uses the term DGX while in other markets, YPG is used. For instance the YPG635 is the same as the DGX630. 
The ones available nowadays include the DGX230, DGX530 and DGX640. 
Note of Caution
A countless number of these keyboards have been manufactured over the years. Sometimes Yamaha releases a new one and gives it a different name with hardly any significant difference in the old and new model. For instance you will hardly notice the difference between the DGX520 and 530. The only difference is 10 more rhythm sequences in the DGX530. So this is one thing to take into account when buying a Yamaha portable keyboard. Same thing applies for the PSR series, sometimes the new model is a significant upgrade but sometimes it's not. 
The Internet price for the DGX230 is $249.95, the DGX530 goes for $499.99 and the DGX640 for $649.00. If you're on a low budget, the 230 may be the one for you. Otherwise get a better model.
Before buying one of these keyboards you need to be clear about what exactly you're looking for. Are you looking for a piano substitute? Are you learning to play piano? In that case weighted keys are better. The DGX230 for instance doesn't come with weighted keys. You're better off with the DGX640 which comes with 88 Graded Hammer Standard keys. Keep in mind that Graded Hammer Standard keys are not as good as Graded Hammer keys that the best Yamaha digital pianos are known for. The keys on the DGX530 are semi-weighted, a total of 88 keys.  
Portable Grand Keyboards are much better than the PSR-E keyboards we looked at earlier. If you're an intermediate player, it makes no sense to buy a PSR-E model. This is just too toy-like for you. You need a keyboard (at least) like the DGX530 or even a DGX640 for that matter. If you're sure about continuing with the keyboard/piano, it's better to invest in a good model with features that are more advanced.
These portable grand keyboards all come with the Yamaha Education Suite that lets you teach yourself how to  play and perform. 
Lighted-Key Keyboards
Another kind of Yamaha portable keyboard is the lighted-key keyboard. The EZ-200 and EZ-220 are currently available through the Internet. Lighted keys show you the correct notes to play. This is the perfect learn-to-play keyboard for children for two reasons. The first reason is the fact that it comes with guide lamps that tell you what notes to play. The second is the Yamaha Education Suite feature. The lights surely make learning fun. 
The EZ220 which sells for $159.95 replaced the EZ200.
"Portable Digital Pianos"
Lastly, Yamaha makes digital pianos which are pretty light-weight/portable. These include the P35 and P105 which weigh less than 26 pounds. While these are not usually put under the heading of Yamaha portable keyboards, if you're interested in getting a digital piano that is not too heavy, these are worth checking out. On the other hand, digital pianos like the P155 are relatively heavy (about 41 pounds). 
Hope you have a better understanding of what Yamaha has to offer as far as portable keyboards are concerned. All the best in finding a Yamaha portable keyboard that meets your needs and fits your budget.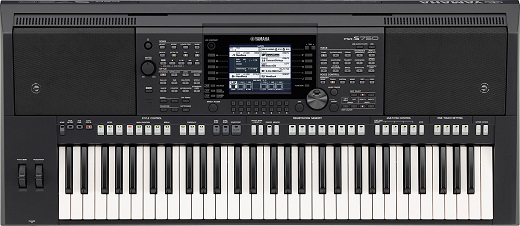 Latest Yamaha Portable Keyboard Reviews:
Beginner PSR Models (Reviews): 
Professional PSR Models (Reviews):
Yamaha YPT Models (Reviews):
Yamaha MX Series (Review):
You will find more portable keyboard reviews here:
Review of Yamaha portable keyboards:
Other Reviews:
In case you're ready to buy a Yamaha portable keyboard, or you want to check out some prices, here's a good online musical instrument seller. You should be able to find a keyboard at a good price there. Having bought from them myself, I can wholeheartedly recommend them.
I advise you to read various reviews before making a purchase. Especially customer reviews. These are from folks who have first hand experience with the various instruments. But remember that it's just their opinions. Read different ones so as to get a better and unbiased picture.