About/Contact Mantius of Yamaha-Keyboard-Guide.com
Welcome to www.Yamaha-Keyboard-Guide.com.
Here's a few words about me, the one who created this website.
My name is Mantius Cazaubon. I've been playing keyboards and piano ever since I was a child. Yamaha keyboards were my favorite then and continue to be.
Thanks first and foremost to the Almighty for the gift of music. Thanks to my godmother who bought me a toy keyboard from early on. Thanks to a family friend, Raphael who let me borrow his keyboard when I was little. I remember being ridiculed as a child for spending too much time on the keyboard. Today it has all paid off.
Once a church player, I moved on to having my own "one man band" and playing at a wide range of events. I've played with leading bands in my country and am widely travelled. Today, I mostly do piano bar gigs. 

Social Networking Profiles
Become a friend or fan of Yamaha Keyboard Guide
Facebook: Facebook.com/yamkeyguide - Like the page.

Twitter: @yamkeyguide - Follow my tweets. 

Music (whether it be singing, arranging, composing, songwriting or studio work,) is a major part of my life! I have a very popular songwriting site, www.ultimatesongwriting.com. 
I sincerely hope that you find this site informative and useful. It is filled with my opinions as well as the views of web site visitors and contributors.
Best regards,
Mantius Cazaubon
Contact Mantius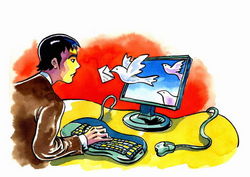 Feel free to send me some feedback. Check out the form below:
Please note that this is NOT the place to ask a keyboard related question. To ask a specific music related question click here.