Yamaha PSRE303 Review
We will take a look at the Yamaha PSRE303 61 key midi keyboard. This keyboard sells for under 200 bucks and is great for beginners. In fact it was built with the beginner in mind. Among it's many impressive features, there's a 2-track recorder, split function, and sound FX button.
Highly Recommended: Go here for the BEST piano/keyboard course I've seen on the Internet.

Forget about keyboards that don't come with a touch response feature. They're a waste of time. The Yamaha PSRE303 comes with an expressive touch just like a piano. The more pressure you apply on the keys, the louder the note sounds. This is the same response that you'd get on an acoustic piano. The only difference is that while an acoustic piano comes with weighted keys, this keyboard come with light keys.
It's always a good idea to record your performances. That way you can know where you're going wrong in your playing and endeavor to improve on your weaknesses. You can also record your performances or practice sessions and replay them simply for your listening pleasure. Well the PSRE303 portable keyboard allows you to do just that. It comes with a 2-track recorder. Just press the record button and start the recording process.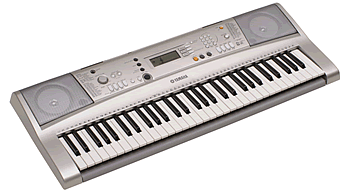 The PSR E303 comes with as many as 482 General Midi (GM) and XGlite voices for you to choose from. The XGlite voices are particularly professional sounding.
Forget about keyboards that come with two speakers but produce mono sound. This keyboard has true stereo sound, so you can expect excellent sound quality from this portable keyboard. There's also a special port on each speaker that adds a powerful impact to the keyboard's bass sound reproduction.
Other great features include Computer Connectivity: Flash ROM, 106 Accompaniment Styles, One Touch Setting, 9 Digital Reverb Plus 4 Chorus Effects, Dual and Split Keyboard Modes, Sound Effect Kit, metronome, and more. Beginners will find the Yamaha Education Suite particularly helpful. This feature actually teaches you how to play keyboards. It includes 3 keyboard lessons for each hand.
The Yamaha PSRE 303 keyboard sells for about $160 without accessories. Click here for newer portable keyboard models. 
Top of Yamaha PSRE303 page.

Yamaha Keyboard Reviews home page.