Yamaha PSR E343 Review
The Yamaha PSR E343 is for beginners. Accomplished players may want to use it as a MIDI controller, especially in studio and to control software applications, but that's about it. It's a very simple low-priced keyboard, great for someone on a budget. You can buy it online for about US $160. If you prefer, you can buy it along with a survival kit (containing educational DVDs, a power adapter and headphones) and pay about $35 more. 

The 61-key Yamaha PSR-E343 is built with students in mind. It features what is known as the Yamaha Education Suite (Y.E.S.), a great feature for learning how to play songs. Y.E.S. consists of built-in lessons that let users teach themselves to play. 

Highly Recommended: Go here for the BEST piano/keyboard course I've seen on the Internet.

One feature I found pretty interesting on this portable keyboard is the ability to connect with iPhone, iPad and iPod touch. You can operate your keyboard from any of these devices. Simply download the appropriate app from Yamaha and connect via an optional accessory, i-UX1. You can control pitch bend and modulation, you can record songs and do a host of other stuff using your iPhone, iPad or iPod touch. 

Another very interesting function is the Melody Suppressor. With this feature, you can connect any device with a line output, such as a mobile device, a computer, a mixer, or even another keyboard to the AUX-in port, and by pressing the Melody Suppressor function the melody line is surpressed. Imagine being able to mute the lead vocals of your favourite songs and replacing it with your own playing.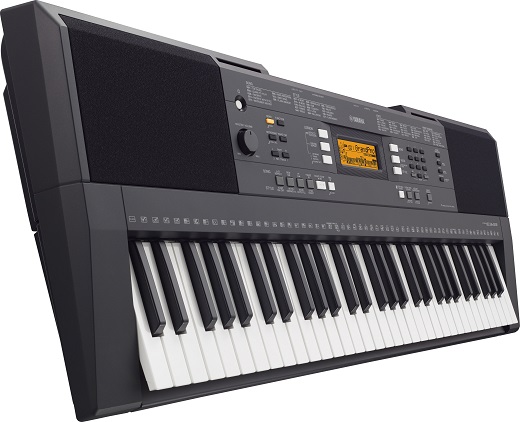 The Yamaha PSR E343 comes with a total of 550 voices. The voices are quite good for a keyboard as low-priced as it is. Certainly some of the best sounds you can get in this price range. Whether it's pianos, strings, organs, trumpets, saxophones, guitars or any other instrument sound you want, it's all in there. You can alter and enhance the sound of various voices to suit your preference, thanks to the various effects like reverb, chorus, master EQ, harmony and ultra-wide stereo. You can layer voices together such as piano and strings and you can also split the keyboard. For instance you can play bass guitar in the left part of the keyboard and electric piano in the right. 
There's a total of 102 preset songs. You can record up to 5 songs, but it's only 2 tracks per song. 
One of my favorites is the accompaniment feature. This is great for beginners and a good way to learn about various styles/genres of music. There's a total of 136 styles to choose from. With this feature you can sound like a full band and it's a lot of fun as well. 
Overall, this a great keyboard for the absolute beginner. Go here to learn more about the Yamaha PSR E343 or to make a purchase.
PSR-E343 Introduction:
Check out other Yamaha PSR keyboards here.