Yamaha PSR 292 Review
Yamaha PSR 292 review and buying guide.
Like the PSR 172, this is a keyboard for beginners. However, it's much better than the PSR 172 and would probably be a better choice for a beginner or student looking for a straightforward musical keyboard. If money is not a problem and you ask me which Yamaha keyboard you should get, I would say buy the Yamaha PSR 292. That way you ensure that you don't have to quickly replace a keyboard which you've outgrown, if you prove to be a fast learner.
Highly Recommended: Go here for the BEST piano/keyboard course I've seen on the Internet.

Some of the nice features that the PSR292 keyboard offers are a chord dictionary, 605 instrument sounds, 135 accompaniment styles, 12 drum kits, 100 built-in songs and general MIDI. The Yamaha Education Suite comes in handy as well. With the YES function you can learn stuff such as chords, note reading and timing. This is one of the features which would probably make this keyboard very helpful to students.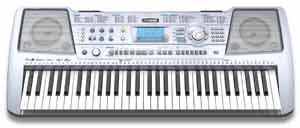 As you may see form the information above, the PSR292 is much better than the PSR172. There's no contest! The PSR 292 also comes with more notes of polyphony. While the PSR 172 only has 16 notes of polyphony (something I detest), the PSR292 has as many as 32. I'm not saying that 32 notes of polyphony is so incredible, but it certainly allows for more productivity. It only makes it harder for notes to cut off while you're playing, and that's great. Obviously, the more polyphony, the better.
The PSR 292 is my top pick for someone who is just starting out or someone who wants a musical keyboard which is not too expensive. It's particularly good for students. Although a basic Yamaha keyboard like the PSR172 can work when you're starting out, it would probably be worth it to spend some extra bucks. 

At the end of the day, the choice is yours. Buy what meets your needs. Click here to buy a newer Yamaha keyboard.
Return to Yamaha PSR keyboard page.

Return from Yamaha PSR 292 review page to yamaha keyboard home page.