Yamaha PSR 175 Review
Despite the low price of the Yamaha PSR 175, it comes with a number of advanced features. One of these incredible features is the Portable Grand. This feature allows one to reset the keyboard to the main piano voice, with the touch of one button. This means that no matter what settings you had before, no matter what styles or voices you were playing, you can save time by pressing the Portable Grand button. Beginners and students will find this feature very convenient. 
Highly Recommended: Go here for the BEST piano/keyboard course I've seen on the Internet.

The Yamaha PSR 175 comes with a Portable Grand stereo-sampled piano that is very warm and clear. Connect a Sustain Pedal to it and make your music sound even better. Your keyboard can communicate with other instruments and computers and even be hooked up to the internet through MIDI - Musical Instrument Digital Interface. This can give rise to endless possibilities in your music.
Click here for Yamaha keyboard prices.

Music is meant for one to have fun and the same applies to the Yamaha PSR 175. It includes a DJ function that gives you access to the world of Hip Hop, Techno R&B and the coolest music, on your Yamaha keyboard.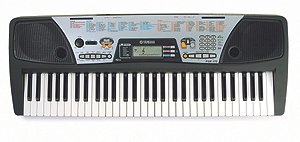 Do you want to learn to play the keyboard? Do you want to improve your keyboard skills? Then you should be delighted with the Yamaha Education Suite feature. The Yamaha PSR175 comes with 100 built-in songs with songbook that helps you learn to play. It includes three keyboard lessons for each hand, lesson grading and a chord dictionary. This will certainly supplement the lessons that your music teacher provides.
This Yamaha portable keyboard comes with a bass boost system and stereo sound quality. In addition to the 100 songs that it has, there are 100 accompaniment styles on this keyboard. If it's fun and entertainment you want, then the accompaniment feature provides just that. No matter what genre of music you're interested in, you should find it on there.
Students will find the metronome function very useful. For those who want to play privately, the headphone jack comes in handy. More polyphony is always better, but as a beginner, 16 notes of polyphony will do the trick.
This keyboard includes 100 voices for you to choose from. Find voices like violins, trumpets, electric pianos, organ, harpsichord, guitars and bass guitar, as well as 4 Multipads buttons.
Buying a PSR175 online is very easy and straightforward.
Return from Yamaha PSR 175 review to Yamaha keyboard home page.