Yamaha PSR S910 Review
Yamaha PSR S910 Review
In this review we take a look at the Yamaha PSR S910 arranger workstation keyboard. This keyboard sells for about $1,749.99 at leading music keyboard outlets leading musical instrument sellers. The Yamaha PSRS910 comes with so many outstanding features, it's certainly worth the price.
Highly Recommended: Go here for the BEST piano/keyboard course I've seen on the Internet.

One feature that immediately stands out in the Yamaha PSR-S910 is the accompaniment styles. If you're looking for a keyboard that allows you to sound fully arranged with little or no setup, you should check out this one. You can sound like an entire band with the touch of a button and the voicing of a chord. This is one feature I've always liked in Yamaha keyboards and the PSR S910 takes it to another level.
In addition, there's a Music Finder feature that allows you to set up the entire keyboard by simply selecting one of thousands of song titles. Style, tempo, variation, and right-hand voices are instantly set when you select a title.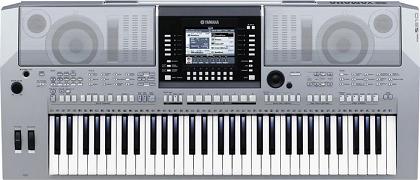 I like the Super Articulation Voices feature and the way it gives strings, reeds, and brass sounds such real-time expressiveness. The Yamaha PSR-S910 comes with a 5.7" color screen and professional features like USB audio recording and playback of MP3 files. The MP3 format is commendable, you can't go wrong with this popular, convenient format.
Other great features of the PSR S910 include:
Sounds from the legendary Tyros3
Microphone input with 3-part vocal harmony
128-note polyphony
16-track sequencer
Audio recorder
Internet direct connect and USB connectivity
Dozens of effects
The Yamaha PSR-S910 is a 61-key, full-size with touch response (velocity sensitive) keyboard. It comes with dual split, USB storage, MIDI In/Out, USB slave, 1,186 Voices, built-in speakers and much more. You can learn more about this keyboard here.
If you're looking for a top quality arranger workstation keyboard, you should definitely consider this one. You can buy the Yamaha PSR S910 keyboard here. Learn more about the Yamaha PSR-S910 keyboard, and read customer reviews here.
Go here to learn about other recommended online stores for buying a keyboard.
Go here to write a PSR S910 review.

PSR-S910 Demos/Reviews
Go to Yamaha Keyboard Reviews Homepage.