Yamaha DGX 202 Review
Yamaha DGX 202 review and buying guide.
The DGX202 is similar to the PSR292 in most respects. The main difference between these two Yamaha keyboards is the number of keys that they have. While the Yamaha PSR292 has 61 keys, the Yamaha DGX 202 has 76. As a buyer, you simply have to decide whether you need the extra keys or not. Are more keys better? Not necessarily. It all depends on your circumstances.
Highly Recommended: Go here for the BEST piano/keyboard course I've seen on the Internet.

Like the Yamaha PSR292, the DGX202 is a keyboard for beginners and students. In my opinion, it's a good keyboard for those who are not necessarily interested in a keyboard which is too complicated, but simply want a straightforward keyboard.
There are beginner keyboards that are much cheaper than the Yamaha PSR292 and the Yamaha DGX 202. However, I don't exactly recommend them. As far as I'm concerned, it's sometimes good to spend a little extra for a keyboard which will take a little more time for you to outgrow, except if cash is really a major issue. It's up to you to decide what really meets your needs.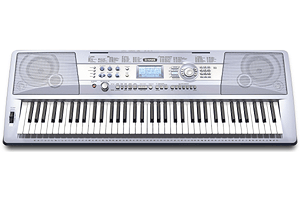 The Yamaha DGX202 includes some nice features such as a chord dictionary, 135 accompaniment styles, 605 instrument sounds, 12 drum kits, 100 built-in songs and General MIDI. The DGX202 Yamaha keyboard also includes what Yamaha refers to as the Yamaha Education Suite (or YES function). With this feature you can learn chords, note reading and timing, among others. A student should be able to gain quite a lot from this feature. Learn how to play keyboards easily.
This keyboard comes with 32 notes of polyphony, making it better than models such as the Yamaha PSR172 which only have 16 notes of polyphony. With as few as 16 notes of polyphony, notes will cut off very easily, even with a beginner. 32 notes of polyphony, although not ideal, is so much better. A beginner probably doesn't need any more polyphony.
Just like the Yamaha PSR292, I recommend the DGX 202 as a suitable keyboard for someone who is just starting out or someone looking for an inexpensive musical keyboard that simply does the job. Shop for Yamaha keyboards here. 
Return from yamaha dgx202 review to yamaha portable keyboards page.

Return to yamaha keyboard home page.