Yamaha P155 Review
Yamaha P155 digital piano review:
If you're looking for a professional, top-of-the-line digital piano, the 88-key P155 is a good choice. This is an excellent acoustic piano replacement or alternative. First of all it features a graded hammer (GH) keyboard, Yamaha's best weighted keyboard. This puts it in a much higher class than other Yamaha digital pianos like the Yamaha P105, Yamaha YDP142 and Yamaha YDP V240 which come with the not as good Graded Hammer Standard (GHS) keyboard.
Highly Recommended: Go here for the BEST piano/keyboard course I've seen on the Internet.

 I'm very impressed with the feel of the Yamaha P-155. It really does a good job at reproducing the action on a grand piano keyboard, where the lower keys have a heavier touch and the higher keys are increasingly lighter. I immediately noticed the marked difference between the feel of the P155 as compared to the other digital pianos I just mentioned. If touch is important to you, you're better off spending some more and buying the P155. It costs $999.99, 400 dollars more than the P105 but is worth every extra dollar. 
Another thing that makes the Yamaha P155 so much better than the Yamaha P105 is the piano (the main reason for buying a digital piano, anyway). The piano on the P155 sounds so much better than the one on the P105. According to Yamaha, both digital pianos use Yamaha's "Pure CF sound engine".  Their piano sound was recorded from Yamaha's renowned CFIIIS concert grand piano. This makes both pianos have a really authentic piano sound. But what puts the P155 on a higher level is the fact that it makes use of a 4-level piano sample. Depending on how hard you strike the keys, you will hear one of four piano recordings. Play soft and you hear a piano recorded at a soft level, play more forcefully and you hear a louder piano sample, and so on. It's clear that a lot went into creating this piano sound, hence the reason why this digital piano is so highly rated. It sounds so realistic.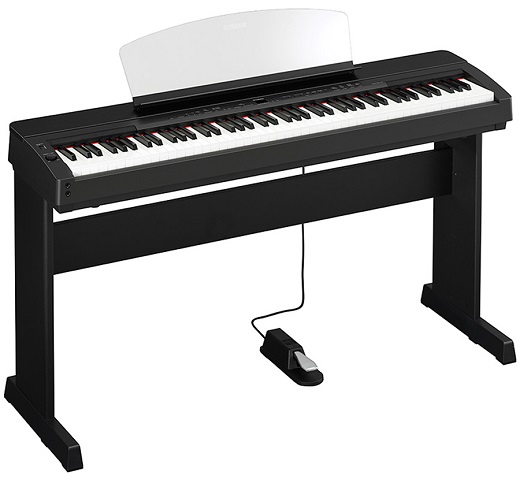 In addition to the grand piano sound, the Yamaha P-155 features other nice sounding voices like electric pianos, organs, vibraphone, strings, harpsichord, clavichord, choir, guitar, wood bass, electric bass and bass and cymbal, a total of 17 voices. You can layer two voices together, like piano and strings, or you can split the keyboard in two with one voice on the left section of the keyboard and another in the right. For instance you can select an electric bass for the left hand and piano for the right. Added to that, you can make use of different types of effects like reverb, chorus and brilliance. 

The P-155 has 128 notes of polyphony, so much better than leading digital pianos like the Kawai EP3 which cost more but only have 96 notes of polyphony. This is very important and means that there's no need to be concerned about notes cutting off, particularly when a dual voice is used and a complex passage is being played. 
Other good features on the P155 include Key off and stereo sustain sampling, damper resonance, built-in metronome, 2-track recorder, tuning and transposition controls, USB MIDI connectivity, MIDI in/out, two headphone jacks, sustain and aux pedal inputs, two 1/4" line outputs, and USB MIDI connectivity.
I highly recommend this Yamaha digital piano. Go here to learn more about the Yamaha P155, read reviews or make a purchase. 
Yamaha Digital Pianos Compared