Yamaha EZ200 Review
Yamaha EZ200 Review
Here's my review of the Yamaha EZ-200 keyboard. Features of the EZ200 include guide lamps, Yamaha Education Suite, 61 touch sensitive keys, Portable Grand, 367 GM/XGlite compatible voices, 9 reverb settings, 100 built-in songs and chord dictionary. It has 32 notes of polyphony, 16 part multi timbral, metronome, 100 styles, stereo speakers, and computer connectivity.
This is a good keyboard for someone who wants to learn how to play. I say this for two reasons. One, is that it comes with guide lamps. And two, the Yamaha Education Suite.
Highly Recommended: Go here for the BEST piano/keyboard course I've seen on the Internet.

But what probably stands out the most in the Yamaha EZ-200 portable keyboard are the guide lamps it comes with. As the Yamaha web site says, you can 'learn to play the "EZ"way with the EZ-200'. The Yamaha EZ 200 comes with a lighted keyboard that will have novices playing from day one. There is a total of 100 built-in songs you can choose from. Just call up one of these songs, select left or right hand and hit "Start". The notes that you are supposed to play light up. You just follow the notes. The keyboard even waits until you have played the right note. Imagine how easy it is to learn to play songs with such a feature. Keep playing that song over and over and in little time you would be able to master it. The keyboard even teaches you how to play chords.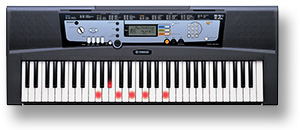 Yamaha EZ200 Review
As mentioned, the other feature that students and beginners will benefit a lot from is the Yamaha Education Suite. This feature actually teaches you how to play the keyboard. Again, you can learn from the 100 built-in songs. The songs are separated into left and right hand parts. There are three keyboard lessons for each hand. A total of 7 levels of lessons. Lesson grading monitors your progress and gives you a grade at the end of your practice session. In addition, there's a chord dictionary. You learn how to play chords, and the names and notes of the chords are displayed on the LCD screen.
So as you can see, the Yamaha EZ200 is great for when there's no teacher around. If you're looking for a keyboard for a beginner or student, by all means consider it.
Last time I checked, the Yamaha EZ-200 was available online for about $250. Learn more about the EZ200 here. But be sure to compare it with others in its class before deciding as to whether or not it's right for you.
Not sure what is right for you? Learn how to choose a keyboard here.