Yamaha DGX 300 Review
Is a Yamaha DGX 300 right for you?
If you've read my review of the Yamaha DGX500, you probably don't even need to read this one because they're quite similar. Why? It's because we're dealing with two keyboards, the DGX500 and the DGX300, which are basically the same, except for the number of keys that they have. While the DGX500 comes with 88 keys, the DGX 300 comes with 76.
Highly Recommended: Go here for the BEST piano/keyboard course I've seen on the Internet.

The Yamaha DGX 300 is certainly one of my favorite portable Yamaha keyboards, next to keyboards like the Yamaha PSR550. I must repeat that I really like this Yamaha keyboard.
It has many nice synth sounds, strings, organs and so on. But my favorite is the Grand Piano, a sound which is simply pleasing to the ears. Something else that is quite nice is the fact that you can add some nice features to it and create variety.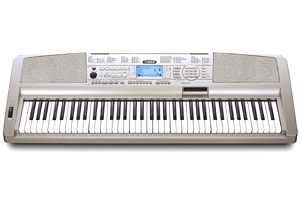 Let me give you a brief idea of some of the features which really make the DGX 300 stand out. I'm referring to features such as 619 voices, stereo sampled sounds, 135 accompaniment styles, 12 drum kits, and a six-track sequencer. Also included is a 3.5" floppy disk drive that reads and writes standard MIDI files, Yamaha-style files and Disc Orchestra Collection. These are just some of the many features that the keyboard comes with.
Is this Yamaha keyboard worth the price? I certainly think so. I made a comparison between it and other portable keyboards which were in the same price range and thought it was superior. I recommend this keyboard. Whether you're looking for a keyboard that you can use at home, for worship, educational purposes or even playing with a band, there's a good chance that the DGX 300 will meet your needs. Shop for new Yamaha DGX keyboards here. 
Return to yamaha portable keyboards page.

Return from yamaha dgx 300 page to yamaha keyboard page.