Yamaha DGX 640 Review
In this review we take a look at the Yamaha DGX 640. We shall list the pros and cons of the keyboard to help you decide whether or not it's right for you.
The Yamaha DGX640 is a great keyboard for someone who is on a budget but whose focus is on piano. The keyboard features weighted keys action and a wide selection of piano voices. If you want a piano alternative you should look into the Yamaha DGX 640. Just as on a traditional acoustic piano, the keys of the lower notes on the DGX640 are heavier than those of the higher ones. It's a feature Yamaha calls Graded Hammer Standard or GHS. I was very pleased with the feel of this keyboard - very close to that of an acoustic piano. And with 88 keys you can't go wrong.
Highly Recommended: Go here for the BEST piano/keyboard course I've seen on the Internet.

You will be delighted by the fact that there are so many pianos and digital pianos on this keyboard. There are a number of organ sounds, string sounds, brass synthesizers and much much more. I fell in love with the Live! Cool! and Sweet! voices of the Yamaha DGX640. I tried out sax and trumpet with the pitch bend wheel and was thrilled. The sounds are very dynamic and realistic. You can adjust the sounds to your preference thanks to the 237 types of DSP effect that can be added to the main and dual voices. Whether it is reverb-like ambience effects, distortion or other tools you can enhance or completely transform a voice to your liking.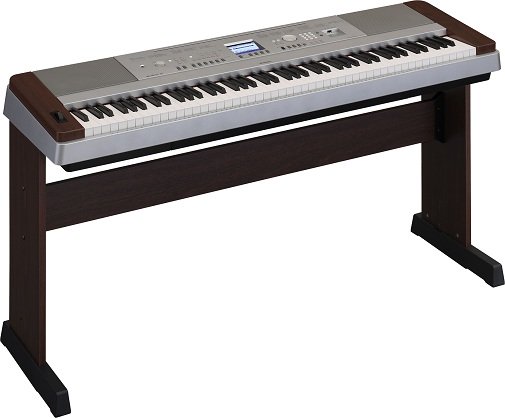 What I didn't like about the Yamaha DGX 640 was the location of the headphones. They're in the back instead of the front. I also found that the keys make a slight noise when they are raised up so there is always gonna be some noise in the room if you play with headphones. However, I understand that for some players these are non-issues.
This keyboard is good for the price. Last time I checked it was being sold for about $799 online. You can buy a Yamaha DGX-640 here. It's definitely worth the price. I compared it to other keyboards for the same price and this one is better. In fact at many online musical instrument stores the DGX640 is a best seller.
If you're learning to play the keyboard or piano this keyboard is a good choice. Firstly, it gives you the touch and feel of a real piano. In addition it comes with a feature called the Yamaha Education Suite (Y.E.S.). This is a helpful set of tools built into the keyboard containing various keyboard/piano lessons. You can teach yourself how to play.
I like the fact that the Yamaha DGX640 comes with USB ports. You can connect a hard drive or flash drive to your keyboard, save and load registrations and user songs as well as read data from external devices connected to your keyboard.
There's also the option of connecting three foot pedals to your keyboard, giving you the capability of producing a wide range of expressive effects similar to that of an acoustic piano.
Wanna learn how to read music? The Yamaha DGX 640 includes music notation display. When you play back a song, the score is shown in the display. If the song contains lyrics and chords, these are also shown.
These are just a few of the features of this keyboard. All in all it's a quality keyboard and worth every cent. Learn more about the Yamaha DGX640 here.
DGX-640 Reviews/Demos