Yamaha EZ 150 Review
The Yamaha EZ 150 is a good keyboard for beginners. It comes with 61 lighted keys that show you the way. In no time you will playing. The notes that you're supposed to play will light up. Just follow these keys. And what's more is that the keyboard moves at your pace. It will even stop so that you press the correct key.
Highly Recommended: Go here for the BEST piano/keyboard course I've seen on the Internet.

As far as I'm concerned, music for a beginner must be about having fun. It shouldn't seem like a chore. If there is any truth to that, the Yamaha EZ 150 portable keyboard is a good choice.
This Yamaha portable keyboard even comes with a feature called Yamaha Education Suite. With this feature you will learn how to play songs and chords. You will find learning to play the keyboard a lot of fun and easy. There is a total of seven lessons on this keyboard as well as a chord dictionary.
Just press the Portable Grand button and the EZ150 keyboard will play as a piano in full keyboard mode. This button will bring up a great sounding stereo-sampled piano. Are you looking for a piano sound that is rich and stunning? You've got it. This button will also bring up a number of piano accompaniments, in case you need to play along with a corresponding Style.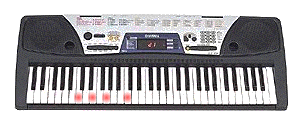 You will find a number of other great features on the Yamaha EZ150 . There are 100 voices for you to choose from. These include pianos, electric pianos, drums, bass, harpsichord, guitars, violins and brass. The keyboard can even help you choose the right voice for a particular style. No wonder they call this keyboard the EZ150 ("easy 150").
What style of music are you interested in? The EZ 150 keyboard has up to 100 styles to choose from including country, Rock, Big Band and so on. You can play along with any accompaniment you like. And it's easy.
You can even connect your keyboard to a PC via a MIDI port. A lot can be done with this feature. You can even email songs to your friends.
The Internet is perhaps the best place to get a great deal on an EZ150 keyboard. Check out a later model of this keyboard here.
Yamaha EZ 150 review to portable Yamaha keyboards page.