Yamaha DGX620 Keyboard Review
Yamaha DGX620 review
The Yamaha DGX 620 is quite similar to the Yamaha DGX520. The major difference between the two instruments is that while the DGX520 comes with lightly weighted keys, the keys of the DGX620 are weighted. If you are a keyboard player who aspires to play the piano, or a piano player that wants the convenience and portability of a home keyboard, the DGX620 (also called the YPG625) may be exactly what you're looking for. If you're thinking of buying the latest YPG/DGX weighted keyboard try here.
Highly Recommended: Go here for the BEST piano/keyboard course I've seen on the Internet.

The DGX620 comes with 88 graded hammer keys. Now this is a really good feature. It means that this digital piano emulates the feel and touch of a real acoustic piano. On acoustic pianos the keys are heavier in the lower registers of the keyboard and lighter in the higher registers. The same applies to the Yamaha DGX 620 digital piano. If you want to develop strength in your fingers, forget about lightly weighted keyboards like the DGX520. Just be prepared to spend some more money.
Amazing features on the Yamaha DGX620 include 500 instrument voices including 127 standard, 361 XGlite, 8 sweet, 5 live, and 5 cool voices. In addition, there's a stereo Grand piano that you should be delighted with. Now that's a lot of voices compared to the few that regular digital pianos come with, and they're pretty impressive.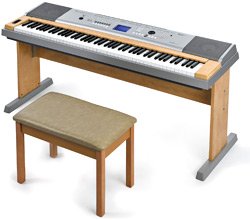 Students in particular will love the popular Yamaha Education Suite feature. It teaches you how to play the keyboard. It includes three keyboard lessons for each hand, lesson grading, a chord dictionary, and songs to learn.
With a feature called Performance Assistant, you can play along with any built-in song. It doesn't matter how advanced you are as a keyboard player. Every note you play will fit the music and therefore you can't play a wrong note, melody, or chord. All you have to do is select a song, press the Performance Assistant button Chord Mode and play the keyboard. It's that simple and straightforward.
The Yamaha DGX 620 also comes with other great features such as an onboard sequencer, 2-way speaker system with a bass boost system, large full-dot matrix LCD, flash ROM, and USB MIDI and USB to external device storage.
I've always liked the auto accompaniment feature of Yamaha keyboards. This feature has helped me a lot in learning about different genres of music. You can choose from 150 unique accompaniment styles, (example rock), play a chord and you will hear an entire orchestra that features piano, brass, strings, guitar, bass drums, and so on. The music changes as you play different chords. So there you have it - your very own one man band!
As always, be sure to read various reviews and compare different keyboards before deciding on a particular one. But the Yamaha DGX 620 is very good instrument for the price. You can find the best deal on the latest 88 key YPG/DGX keyboard here.