Yamaha PSR3000 Review
More and more folks are choosing the Yamaha PSR3000 over other musical keyboards in its class. This is because of the fact that it comes with so many outstanding features. These include an incredible sound, Mega Voice technology, 3-part vocal harmony, color screen, video out, SmartMedia and internet connect capability.
Highly Recommended: Go here for the BEST piano/keyboard course I've seen on the Internet.

The Yamaha PSR3000 even allows you to download song files from the internet and view lyrics on your keyboard screen. You can connect your keyboard to a television through the Video Out jack and have family and friends participate.
If you're passionate about the vintage organ sound, you'll be happy with the Organ Flutes of the PSR3000. You can make all the adjustments you want, including flute footage volume, rotary speed, speaker speed and type, vibrato, organ type, EQ response and so on. You can do all this in real time and even assign certain functions to two foot pedals.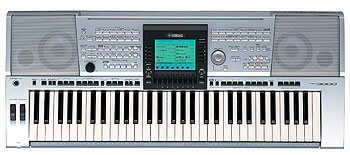 With a SmartMedia card, you will be able to store hundreds of songs. You get as much as 128MB.
With a USB TO HOST port you can connect your keyboard to a PC and transfer data, record and play MIDI files. A USB TO DEVICE port enables you to connect other USB storage devices like floppy disk drives, hard drives and thumb drives.
The Yamaha PSR 3000 comes with several built in styles that have as many as four different variations. For example, if you're playing a rock song, you can use variation A for your verse, B for your chorus, C for your bridge and D for a solo.
You get full accompaniments that include many different instruments like drums, guitar, piano, brass, strings, organs and so on. There are three different intros and endings for each style and you can fill-in when you change variations.
The PSR3000 has as many as 829 voices and 128 notes of polyphony. For those interested in commercially available song/style data, the Yamaha PSR 3000 is compatible with GM2, XG, DOC, SMF, KAR, XF and SFF.
The fact that it's easy to use makes it even more appealing.
These are just a few of the great features that the Yamaha PSR 3000 keyboard comes with. Shop for new Yamaha keyboards here.
Return to Portable Yamaha keyboards page.

Return from Yamaha PSR3000 to Yamaha keyboard home page.