Yamaha DGX 530 Review
Yamaha DGX 530 Review
Let's take a look at the Yamaha DGX530. If you're looking for a good 88 key keyboard this is a good option. Only problem is that the keys are not fully weighted. Usually, one expects weighted, Graded Hammer keys with an 88 key keyboard but this one has lightly weighted keys or Graded Soft Touch (GST).Let me hasten to add that in no way does this undermine the high quality of this instrument. With GTS you get different levels of resistance when playing.
Highly Recommended: Go here for the BEST piano/keyboard course I've seen on the Internet.

Another thing. If you already own a Yamaha DGX520 there's no need to upgrade to this one. They are basically the same instrument. I checked them out and saw no difference, then I did some research on the specs and found out that the only difference between the DGX520 and DGX530 was that the 530 contained 10 more rhythm sequences. So if your focus is on recording and composition you'd be happy with this slight upgrade, otherwise there's no point buying the Yamaha DGX 530 as a replacement.
The Yamaha DGX530 sells for about 500 bucks online. Included in the package are a matching stand and sustain pedal.
I like the fact that this portable grand piano comes with USB connectivity. There are 2 USB ports on the back, USB To Host and USB To Device. With USB To Host you can record and play back MIDI files and transfer data to and from your computer. With USB To Device you can connect peripheral USB storage devices such as hard drives and flash drives. You can save song setting, transfer song data from the Internet to the keyboard, etc.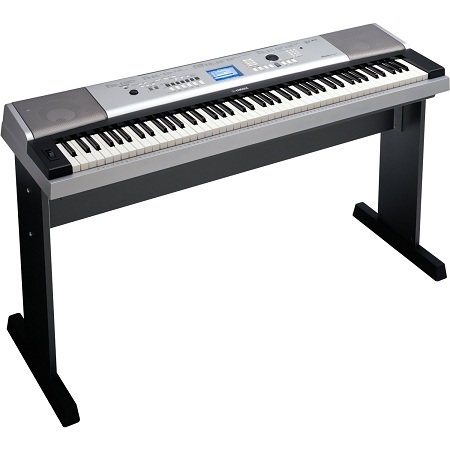 Another great feature is the Lyric, chord and notation display. The keyboard displays the score to a song whether recorded on your keyboard or obtained elsewhere.
The Yamaha DGX530 comes with an Expandable Music Database. With this feature, when you choose a song title, the keyboard selects the right voice, the correct style and even the tempo. Thanks to the One Touch Setting (OTS) feature, a recommended voice with effects is provided for each style you choose. Another great feature is Performance Assistant Technology which ensures that you can play your instrument without hearing any mistakes. You can make hundreds of mistakes but as long as you play in time you will hear correct notes throughout your performance.
Are you learning to play piano or keyboard? Are you hoping to improve on your skills by taking piano lessons? Well the Yamaha DGX 530 is equipped with the popular Yamaha Education Suite which teaches you how to play. The Yamaha Education Suite has three keyboard lessons for each hand. These are waiting mode, tempo mode and minus mode. There's lesson grading, repeat and learn and a chord dictionary. The keyboard has 30 built in songs plus 70 more on CD Rom for you to learn to use the Yamaha Education Suite. All the songs are separated in left and right hand parts with 7 levels of lessons.
Are you interested in composing and arranging music? You will love the 6 track sequencer on this keyboard. I would have loved to get more tracks on the sequencer but for a 400 dollar keyboard, it's good enough. You can do a lot with a 6 track sequencer.
The sound through the keyboards speakers were pretty good and I liked the voices. There are 127 panel voices, 12 drum/SFX kits, and 361 XGlite voices. There's also dual and split modes so you can combine different voices. The pitch bend wheel is always an asset.
If you love to play with accompaniment styles you will love the fact that the Yamaha DGX530 comes with Full Keyboard Mode. With this feature you can play your keyboard like a piano and the accompaniment will follow the chords you play. You can play bass notes with the left hand and chords with the right hand. This is where the Yamaha DGX 530 beats traditional portable keyboards. Most portable keyboards require that you play entire chords with the left hand and to most piano players this is unusual.
Overall, this is a great instrument and I highly recommend it. Go here to buy a Yamaha DGX 530. You can read reviews, learn about the instrument and see whether it's right for you. 


Yamaha Keyboard Review Home Page