Yamaha YPT300 Keyboard Review
Portable Yamaha keyboard review
This page discusses the Yamaha YPT300 61 key portable keyboard. This is a basic beginner keyboard selling for under 150 bucks.
Usually the more expensive a musical keyboard is the better it is. So it all depends on how much you're prepared to spend on a keyboard. If you simply want something that is affordable for a beginner or child, the Yamaha YPT300 may be exactly what you need.
Highly Recommended: Go here for the BEST piano/keyboard course I've seen on the Internet.

But despite the fact that the Yamaha YPT 300 doesn't cost much it still comes with many awesome features. These include Portable Grand functionality, 5 song memory locations for recording performances and practicing lessons, 482 instrument voices and 106 accompaniment styles, and a large back-lit LCD that displays music score and lyrics. I like the 5 song memory feature as well as the 2-track recorder. This allows you to record up to 5 performances and listen to them over and over again. This is a great feature for recording your practice sessions and going over your mistakes. A good way to figure out what your weaknesses are. You can also record your performances and play them back simply for your listening pleasure.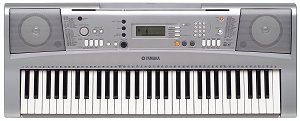 Forget about keyboards that have no touch response feature. They're simply a waste of time. The YPT300 comes with an expressive touch just like a piano. A heavier touch results in a louder sound, while a light touch gives you a soft sound. This is the same response that you'd get on an acoustic piano. The only difference is that while an acoustic piano comes with weighted keys, the YPT 300 come with light keys.
The Yamaha YPT300 portable keyboard comes with many other great features. These include Yamaha Education Suite™ (Y.E.S.5), Reverb, General MIDI and XGlite voices, a Sound Effects Kit, General MIDI (GM) Compatible/MIDI IN and OUT for Computer Connectivity, and much more. All in all it looks like a pretty good keyboard for the price. Click here to shop for the later Yamaha YPT310 keyboard model.
Top of Yamaha YPT300 page.

Yamaha Keyboard Reviews Home Page