Yamaha YDP 142 Review
The Yamaha YDP 142 is a good choice for someone looking for a home digital piano. This digital piano replaces the Yamaha YDP 141. First of all, I love the looks of this digital piano. You can choose between dark rosewood (YDP 142R) and black walnut (YDP 142B). I prefer the dark rosewood finish as it blends better with the color of the walls at my house.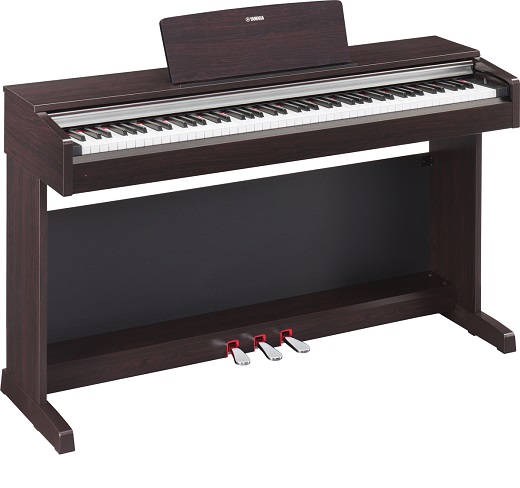 This digital piano sells for $1,099.99 (about 400 dollars less than the YDP162). If you're on a budget, you may want to go for this cheaper model. But the more you spend, the better your keyboard gets with regards to its internal sound system and key action. With regards to features and digital technology, the Yamaha Arius YDP-142, YDP-162 and YDP-S51 are similar.

Highly Recommended: Go here for the BEST piano/keyboard course I've seen on the Internet.

The Yamaha YDP 142 has seen some significant improvements from the previous YDP141. While the previous model came with 64-note polyphony, the YDP-142 has 128-note polyphony. This is very important and means that no longer will notes cut off in a heated performance. Up to 128 notes can sound at the same time. This is very useful, particularly for layered voices like the popular piano and strings. 
The grand piano voice on the Yamaha Arius YDP-142 sounds very good to me. Better than the YDP141, but not a good as the YDP162. Of course, everything is relative and for more money, one can always get a better sounding piano. But for the price, you can't go wrong with the sound of this piano. Close your eyes and you might believe you're playing a real acoustic piano. The keyboard comes with Yamaha's Graded Hammer Standard keyboard and does a good job at emulating the weight, movement and natural resistance of an acoustic piano. Keys are heavier in the bass and lighter in the higher registers. This is important for experienced players and students alike. In addition, students can adjust the touch-sensitivity of the keyboard to hard, medium or soft, to match their strength. 
In addition to the piano sound there are other voices such as electric pianos, harpsichord, organ, vibraphone and strings. They sound nice enough. There's a total of 10 voices instead of six on the previous model.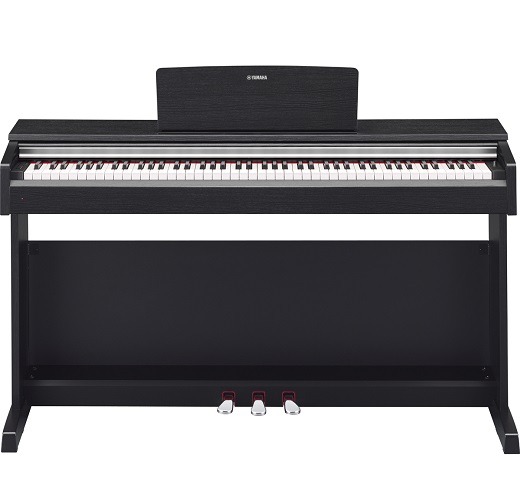 The Yamaha YDP 142 comes with some great tools for students and teachers. It comes with a metronome for practice purposes. You can adjust the tempo from 32 to 280 beats per minute and there's a total of six time signatures. There's a two-track digital recorder that's great for recording oneself and listening later. Great way to improve. There's a "50 Greats for the Piano" music book and 50 classic piano songs in the built-in song memory. You can learn to play these songs at your own pace. Play one hand at a time or reduce the tempo as you see fit. You can adjust the pitch of the piano up or down 6 semitones. Very useful.
If you're in search of a good digital piano, particularly for the home, the Yamaha Arius YDP-142 deserves consideration. Go here to learn more about the Yamaha YDP 142 digital piano or to make a purchase. You can also read reviews. 
Yamaha Arius YDP-142 Overview: