Yamaha YPG635 Review (Yamaha DGX630 Review)
Yamaha YPG635 Review - Yamaha DGX630 Review
This review takes a look at the Yamaha YPG 635 also known as the Yamaha DGX630. Last time I checked, this 88 key portable grand keyboard was being sold for about $899.95 online. You can get a used one for less.
The first thing I liked about the Yamaha YPG635 was its looks. I liked its wood accents and matching wood stand. I think looks go a long way in giving you the vibe you need to want to play your instrument regularly. So that's a plus in my mind, particularly for students.
Highly Recommended: Go here for the BEST piano/keyboard course I've seen on the Internet.

If you're looking for the feel of a grand piano for less, if you need a full set of 88 keys, then the Yamaha DGX630 is a great option. It comes with Yamaha's "Graded Hammer Standard" weighted action system. This means that the keys are not only weighted, but weighted in a graded increase from right to left, like a real grand piano. If you want to gain practice in preparation for a more expensive grand piano you need a keyboard with this feature.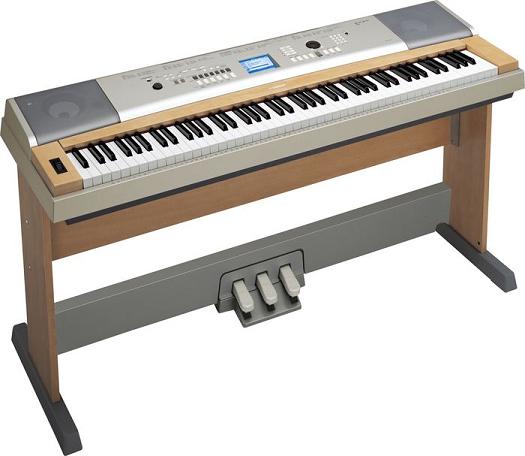 Personally, when I'm buying any keyboard I pay particular attention to the piano sound. And I must say that I was impressed with the Yamaha YPG 635's grand piano sound. The keyboard also comes with an XGlite sound bank that contains hundreds of other instruments such as strings, guitars, bass, drum kits, percussion, woodwinds, synthesizer sounds and effects.
There's Dual Mode for combining two instruments and playing them at the same time. I tried piano and strings and was impressed. Then I tried Split Mode with bass guitar in the left hand and piano in the right and enjoyed playing. As far as I'm concerned, these features are a must-have in any keyboard I'm buying. I like the fact that one can easily call up the dual and split mode features. The two way speakers sounded great.
This keyboard is great for students. It comes with the Yamaha Education Suite, a feature that teaches you how to play the piano or keyboard in a very interactive manner. Thanks to the large LCD screen, you are able to easily read music notation. With three different learning modes you will learn to first of all read pitch, then rhythm, then tempo. A competent sight reader can easily connect to the internet via computer and have access to a limitless library of sheet music. You can easily download MIDI files directly to your keyboard or load them from a USB flash memory stick.
I was impressed by the fact that this portable grand keyboard comes with a track recorder. This is great for bringing out the composer in you. Although there's only 6 tracks; I wish there were more.
Overall, I think that the Yamaha DGX630 is a great instrument for players of all levels. If you're a student and can afford it, forget about those cheaper models and invest in this one. And naturally, piano players know that they are saving a fortune by buying this digital keyboard. I would definitely recommend this product to anyone looking for a good quality product at a reasonable price.
Here's a good place to buy a Yamaha YPG635 keyboard.
Top of Yamaha YPG 635 Review