Yamaha YDP323 Review
Let's talk about the Yamaha YDP323 digital piano. This digital piano is perfect for someone looking for that piano experience but doesn't want to dish out thousands for a real acoustic piano.
Last time I checked, the Yamaha YDP 323 88 key home digital piano was being sold for about $1300. This friendly living room package comes in a beautiful all-wood, walnut finished cabinet with sliding key cover.
Highly Recommended: Go here for the BEST piano/keyboard course I've seen on the Internet.

So the Yamaha YDP323 gives you the actual sounds of a concert grand piano. Just like high-grade digital pianos the YDP 323 uses Yamaha's AWM (Advanced Wave Memory) tone generation technology and Stereo Sampling. This results in a sound that is just like the real thing. So no longer do you have to settle for fake piano sounds. Instead you can get the authentic sound you're looking for.
And it's not only the sound of the piano that makes this Yamaha digital piano stand out among the crowd. Apart from a real acoustic piano sound you get a touch that is similar to that of acoustic counterparts. I'm talking about Yamaha's highly aclaimed Graded Hammer Efffect keyboard. Instead of springs and dampers, the keyboard uses weights and mechanical linkages resulting in an exceptionally realistic touch.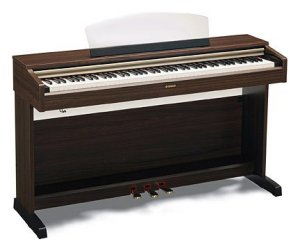 Digital pianos like this one have really changed how things work. With an acoustic piano there's a lot of maintenance to be done, particularly expensive, periodic tuning. But with a maintenance-free digital piano like this one you can forget about such a hassle.
The YDP323 digital piano comes with 64-note polyphony, 30 sampling banks, 10 voices with dual mode, MIDI IN/OUT/THRU, metronome, digital reverb, hard and soft touch sensitivity key settings, 50 demo songs, and a number of other impressive features. You can check it out today. Click here to shop for Yamaha keyboards.
Top of Yamaha YDP323 page.

Yamaha keyboard reviews home page.