Yamaha YDP223 Review
The Yamaha YDP223 is similar to the YDP113 in many respects. However the YDP223 has more features. You simply have to decide whether you want to pay for these extra features or not.
Like the Yamaha YDP113, the Yamaha YDP 223 has a very good Graded Hammer weighted action, and therefore matches the feel of a real acoustic piano. A stereo sampled AWM piano sound is also included, making it sound like the real thing.
Highly Recommended: Go here for the BEST piano/keyboard course I've seen on the Internet.

The way the  YDP223 responds to the amount of pressure that is applied to the keys is also excellent. Depending on how hard or soft you play, the sound of the Yamaha YDP223 changes. It has a nice warm sound when you play soft, and a bright sound when you play hard. You could combine two sounds such as piano and strings if you want to.
The YDP223 digital piano surpasses the YDP113 with regards to the following...
While the YDP113 has 32 notes polyphony, the YDP223 has a maximum of 64 notes polyphony. This simply means that you can play more notes simultaneously. Obviously, the more polyphony a digital piano or a Yamaha keyboard has, the better. This ensures that notes don't cut off when you're playing.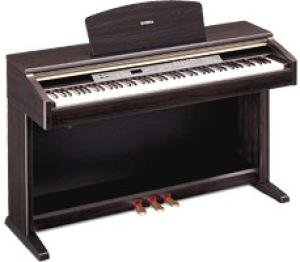 There is a very handy 2-track recorder on the YDP223. I always find it very useful to record my practice sessions so that I can go over my one hundred and one mistakes. This digital piano facilitates this.
There are also more controls, more pedals, and even more demo songs. Yamaha has added more strings sounds and more organs on this digital piano.
As far as I see it, the YDP223 is simply an enhanced version of the Yamaha YDP113. You can check out the Yamaha YDP223 here. Depending on your budget, you would choose either one of these Yamaha digital pianos. 

 Return to yamaha digital pianos page.

Return from Yamaha YDP 223 to yamaha keyboard page.