Yamaha YDP113 Review
What's so special about the Yamaha YDP113? Here's my review.
I like this Yamaha digital piano. Some digital pianos fail miserably when it comes to matching the feel of a real acoustic piano, but not this one. The Graded Hammer weighted action is superb.
Highly Recommended: Go here for the BEST piano/keyboard course I've seen on the Internet.

I find the sound of the Yamaha YDP113 to be quite phenomenal. Its stereo sampled AWM piano sound almost makes you think that you were playing a real acoustic grand piano. Notice I said almost. I don't think anything could sound 100% like the real thing. One thing is for sure, and it's the fact that Yamaha lives up to its solid reputation, with the sound that this digital piano delivers.
I like the fact that this digital piano reacts so well to the amount of pressure that is applied to the keys. Depending on how hard you play, the sound changes just like an acoustic. It's true that any good digital piano and yamaha keyboard would have a touch response feature. But the this one stands out, together with a few other yamaha digital pianos mentioned elsewhere on this site.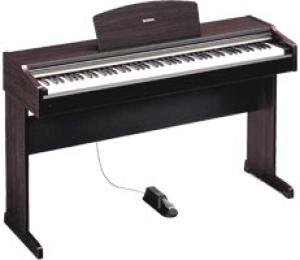 Another thing which I have a bias for is a digital piano where I can combine two sounds. Sometimes I like to play two sounds at once, especially when I'm playing a solo gig. It adds a lot of feeling and variety to the music. The YDP 113 doesn't disappoint in that department. If you like applying various effects to your sounds, you would probably like the digital reverb feature.
Naturally, there are many other great features and benefits which this digital piano offers, but I just thought I should mention what appeals to me the most. You could read more about this yamaha digital piano at zzounds. I highly recommend it. If you're interested, you can find out about the price of the Yamaha YDP113 right here.