Review of the Yamaha YDP213 digital piano
Let's take a look at the Yamaha YDP213 digital piano for a moment. This 88 note digital piano is perfect for someone looking for an affordable grand piano alternative. Also, if you're not ready to spend over 1000 bucks for a digital piano, the Yamaha YDP213 may be just what you need. It sells for about 800 bucks. But it's more suitable to hobbyists and aspiring players, not necessarily for professionals.
Highly Recommended: Go here for the BEST piano/keyboard course I've seen on the Internet.

This beautiful Yamaha digital piano comes with sounds that are similar to that of a concert grand piano. How does Yamaha achieve this? It is through the use of their Advanced Wave Memory tone generation technology and true sampling. This is very important in a digital piano. The sounds have to be as realistic as can be or else forget it.But at the end of the day, a piano is not only about sound. The feelof the piano is very important to piano players. And so the Yamaha YDP213 digital piano delivers in that department. The piano touch is almost as natural as that of the real thing - an acoustic piano. I must say that this is one field Yamaha has mastered. I think it has everything to do with the fact that they have been crafting fine acoustic pianos for over 100 years. With the Graded Hammer Effect action of the Yamaha YDP 213, you can't go wrong. Like a grand piano, the keys are weighted heavier on lower notes and lighter as you play up the keyboard.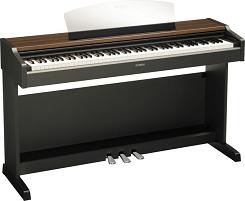 I like the fact that this keyboard comes with 3 pedals. The YDP213 comes with damper, soft, and, sostenuto pedals so you can enjoy more expressive performances- just like an acoustic piano. Many digital pianos do not come with this feature - not the Yamaha YDP 213.
Other important features include 64 notes polyphony, 30 sampling banks, 6 voices, 2 - 4-3/4" speakers, Sliding key cover, 2 - 6W amplifiers, Walnut cabinet finish, Metronome, MIDI in/out, Reverb and chorus, and lots more. For the price, this is a good digital piano. Click here to buy a newer Yamaha YDP digital piano.
Top of Yamaha YDP213 page.

Yamaha keyboards home page.