Yamaha YDP131C Review
Let's take a look at the Yamaha YDP131C digital grand piano. At first glance you have to admit that it is a very beautiful instrument. In my opinion, it would fit just right in the home. If you can't afford a real grand piano, why not buy a good digital substitute for a little over 1000 bucks?
Highly Recommended: Go here for the BEST piano/keyboard course I've seen on the Internet.

The Yamaha YDP131C comes with an 88-key graded hammer action keyboard. If you're looking for an instrument with keys that feel just like an acoustic, this is the way to go. If you're starting out on the piano, you need an instrument that comes with weighted keys so as to develop strength in the fingers. And with the graded hammer effect, the keys are heavier in the lower register and lighter in the higher register just like a grand piano.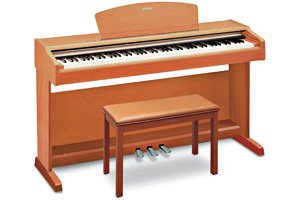 The YDP 131C features stereo sampled instrument voices such as grand piano, electric piano, pipe organ, and strings. These tones are made using Yamaha's AWM stereo sampling where each voice is recorded in stereo and made to sound like the real thing. This is a straightforward digital piano and it doesn't come with many voices (only 6).
Other great features include 64 notes of polyphony, digital effects (reverb, chorus, and dual), 50 preset songs, MIDI In and Out, and built-in speakers. Just like a real grand piano, the Yamaha YDP131C comes with sustain, damper, and sostenuto pedals for more expressiveness in your music. It is sold with a matching bench as well.
The MIDI feature is certainly a welcome one. This means that you can connect the Yamaha YDP 131C to other music keyboards and digital pianos, to a computer, sound modules, and other MIDI compatible devices.
As always, be sure to compare the YDP131C to other digital pianos in its class before making a purchase. Click here to buy a newer Yamaha digital piano model. 
Top of Yamaha YDP131C review page.
More Yamaha Digital Piano Reviews.
Other Keyboard Reviews. Yamaha digital piano reviews home page.