Yamaha YDP 162 Review
The first thing that captured me was the looks of the Yamaha YDP 162. I can't afford an acoustic piano at this time so I'm happy to get a digital piano that can fit in my home just like a more expensive piano would. Perfect for my living room. It costs US $1499 online. It's available in black and rosewood finish, but my favorite is the rosewood to suit the color of my walls. While a digital piano like this costs so much less than an acoustic piano it has major advantages like being able to connect to a computer and headphones, volume control and so much more. It's always in tune so there's no need to spend money for the services of a piano tuner. You can change the pitch of your instrument at the press of a button if a particular key is too challenging for a singer.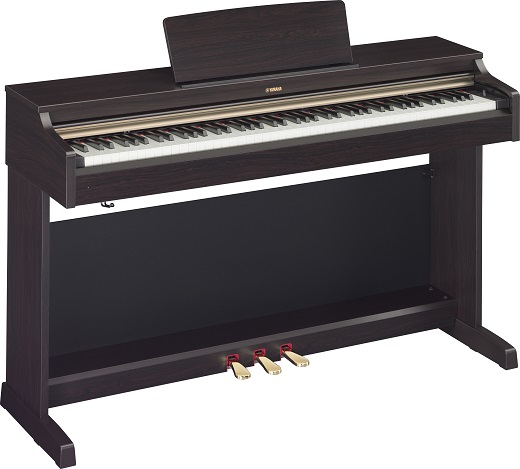 But when one is buying a digital piano, the most important thing is the quality of the piano. And in that respect the Yamaha YDP 162 does well. It sounds very real. Close your eyes and you may think that it's an expensive acoustic piano. Still, nothing matches an authentic piano sound from a top acoustic piano. (You can check out the sound of the piano in the video at the end of this review.) Not perfect, but realistic enough.
Highly Recommended: Go here for the BEST piano/keyboard course I've seen on the Internet.

I am satisfied with not just the sound of the piano but the feel of the keys.  It features Yamaha's Graded Hammer (GH) keyboard which is superior to the Graded Hammer Standard (GHS) keyboard action. The keys are heavier in the bass and lighter in the higher register of the digital piano just like an acoustic piano. I love how the piano responds to your playing depending on how much force you apply to the keys. A graded keyboard is a must-have for experienced players and for students as well. It's so important that students develop proper playing technique right from the start. Again, it is not perfect but good enough.

One thing I really like about this digital piano is the fact that one can adjust the keyboard's touch sensitivity to match a student's strength. You can choose between soft, medium or hard touch settings. 
The Yamaha YDP-162 has other great voices as well, like electric pianos, harpsichords, vibes, organs and strings, a total of 10 sounds. They sound good. I guess, since it's a limited number of voices a lot of attention were put into them. There are no filler voices, just the real thing. What's good is the fact that you can layer any two of these voices together, like the popular piano and strings for instance. There are 4 types of reverb that you can add to the voices as well.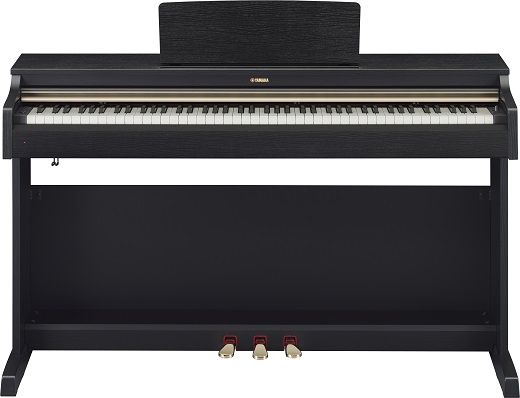 The Yamaha Arius YDP 162 features 128 note polyphony. This is very important, particular for professional and advanced players. With so many notes of polyphony one can be sure that notes won't cut off during heated performances. 
Overall, I'm very impressed with the Yamaha Arius YDP-162. If you're looking for an affordable acoustic piano alternative this is a good choice. Go here to learn more about the Yamaha YDP 162 digital piano or to make a purchase. You can read other reviews as well. 
Yamaha Arius YDP-162 Digital Piano Overview:
Yamaha Digital Pianos Buying Guide