Yamaha PF500 Review
What immediately stands out in the Yamaha PF500 is it's authentic piano sound.
So many piano players are choosing this digital piano over more expensive acoustic counterparts. When it comes to touch and tone, the Yamaha PF500 is a force to reckon with. The features are very extensive and the sounds are great.
Highly Recommended: Go here for the BEST piano/keyboard course I've seen on the Internet.

Forget about digital pianos that are based solely on dynamic stereo sampling. The sounds of the Yamaha PF 500 is based partly on dynamic stereo sampling where each key is sampled at 3 levels. But for a digital piano to sound like the real thing, dynamic stereo sampling is not enough. So the other kind of sampling that is used is string resonance sampling. This is based on complex resonances created by sympathetic harmonic vibrations of piano strings. It makes the Yamaha PF500 keyboard sound full and rich.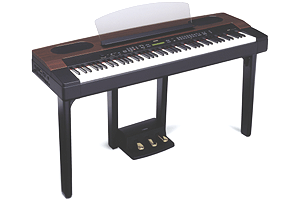 Tone goes hand in hand with expression on an acoustic piano. And the Yamaha PF 500 delivers in that respect. It uses Yamaha's graded hammer effect keyboard. The touch of the PF500 is as real as that of an acoustic.
Not often do you find a digital piano with as many as 38 preset voices plus 480 XG voices, as well as 12 drum kits. And you can add effects like chorus, reverb, brilliance, variation effect, and insertion effects to the various voices. With an acoustic piano, you are stuck with one sound, not so with this digital piano.
Other great features on this beautiful sounding and natural playing Yamaha digital piano include internal song memory, song recorder, a speaker system, a contemporary classic design, split function, PC interface, 128 notes of polyphony, and a 16-track sequencer.
I have read some very positive reviews on this keyboard online. Everyone has everything good to say about the PF500 digital piano. If you are into acoustic pianos but want something portable for the stage, this may be exactly what you're looking for. I highly recommend it. Last time I checked it was being sold for about $2,196.00. Click here to shop for a newer Yamaha keyboard model. 
Top of Yamaha PF500 page.

Yamaha Keyboard Reviews home page.