Yamaha PF1000 Review
This review discusses the Yamaha PF1000 digital piano.
The price alone should indicate that this is a top-of-the-line digital piano. Last time I checked it was being sold for about $3,596.00 - the list price is $4195.00.
Highly Recommended: Go here for the BEST piano/keyboard course I've seen on the Internet.

If you're looking for a digital piano that truly emulates the expressive touch of an acoustic piano, this is it. Many digital pianos claim to do this but leave you disappointed. Not so with the Yamaha PF1000. The PF 1000 uses three layers of stereo piano samples. Each of these samples are set at a different velocity so when you play lightly you hear a soft delicate piano sound. Apply more pressure on the keys and the piano becomes louder and richer with more harmonic overtones. This is similar to the response that you get in an acoustic piano.
But the Yamaha PF1000 doesn't stop there. It features Stereo Sustain samples and Key-off samples for added realism. Special mention must be made of the keyboard's Graded Hammer Effect. With this effect the keys in the lower registers of the digital piano are heavy while those in the higher registers are lighter. It's just like a real piano. If you're looking for a digital piano that responds to the subtlest dynamics of your playing, you've found it. The keyboard also comes with a custom three-foot pedal. If you're looking for a keyboard which is in touch with piano reality, this is it.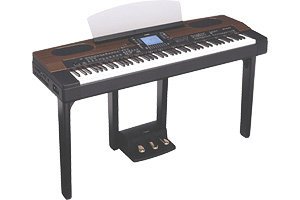 This Yamaha digital piano comes with a huge selection of high-quality voices. It has a total of 308 panel voices, 480 XG voices and as many as 16 drum kits. Some of my personal favorites apart from piano are classical flute, soprano sax,and the choir/pad voices. And you can add 6 blocks of digital effects (Reverb, Chorus, DSP) for a richer sound. You don't see digital pianos with so many sounds that often. With an acoustic piano, you are stuck with one sound, not so with this digital piano.
Other great features include 259 professionally arranged accompaniment styles, large LCD with graphical user interface, 96-note polyphony, PC interface (TO HOST) for computer connection, and score/lyrics display function and video out jack.
If sequencing is your thing you will be delighted to know that the Yamaha PF 1000 comes with a 16-track sequencer as well as a built-in floppy disk drive. This is one feature I've always liked in keyboards. It's perfect for getting those creative juices flowing.
It also comes with built-in two-way 30W stereo speakers, custom 3-foot pedal with half pedal effect, keyboard stand, and music rest.
I highly recommend this Yamaha digital piano. I've read so many positive reviews about it so I know I'm not the only one who just loves it. Click here to buy a newer Yamaha digital piano model. 
Top of Yamaha PF1000 page.