Yamaha P70 Review
Here's my review of the Yamaha P70 digital piano. If you're just starting out on the keyboard and you want to give yourself a good start with a keyboard that comes with weighted keys, then the Yamaha P 70 might be a good choice. This digital piano costs just about 600 bucks so that is not too bad. It is also very portable (weighs 28-1/2 lbs) so you can carry it with you easily.
Highly Recommended: Go here for the BEST piano/keyboard course I've seen on the Internet.

Like an acoustic piano, this Yamaha digital piano comes with 88 weighted keys - that's 88 notes of graded hammer action. What I don't like is the fact that it only has 32 notes of polyphony which means that only 32 notes can play simultaneously. But I guess if you're a beginner or intermediate player, you may not have a problem with that. This might just be enough polyphony for you. It would be more of a problem with advanced players where notes would cut off during a 'heated' performance, or when using dual voices.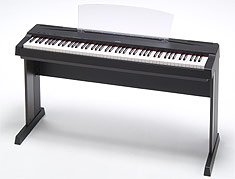 The P70 digital piano comes with many impressive features such as dual voice mode, digital reverb, and MIDI I/O. I like the dual voice mode in particular. I've always been fascinated with this feature. This enables you to play two sounds together. Piano and strings is my favorite and a favorite of many other keyboard players. With the digital reverb feature you can change the sound of all 10 voices on the keyboard according to your personal preferences. Voices include grand piano, EP, pipe organ, and strings.
The Yamaha P70 keyboard comes with built-in speakers and 50 built-in songs. Want to play without disturbing others? Simply connect a headphone into the keyboard. Looking for a piano that you can carry under your arm? Are you on a budget but want a piano feel? This keyboard may be just what you need. Click here for newer Yamaha digital piano models.
Top of Yamaha P70 page.

Music Keyboards Homepage.