Yamaha P140 Review
Here's my review of the Yamaha P140 digital piano. This Yamaha digital piano is perfect for a pianist or keyboard player looking for that  contemporary digital electronic piano sound. Get the feel of an acoustic with the advanced features of a digital piano for just over a thousand bucks. It features 88 graded-hammer keys. The P140 is the newest member of Yamaha's P series line. Other models include the Yamaha P60, P70, P90, and P120, P200 and P250. So if you want something that is more contemporary, this may be just what you need.
Highly Recommended: Go here for the BEST piano/keyboard course I've seen on the Internet.

The Yamaha P 140 digital piano is packed with essential sounds such as organs, harpsichords, and piano and string dual voice. And since the sounds on the keyboard are recorded based on Yamaha's AWM sampling technology, you can rest assured that the sounds are very similar to the real instrument. Expect nothing but authentic sound from the P140.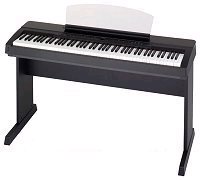 This keyboard is also very good for students. It comes with 50 preset piano sounds that you can listen to or play along with. You can mute various parts of the song for practice purposes. Mute the left hand or right hand and let the Yamaha P 140 accompany you. This is a great way to practice and to learn to play the instrument.

Other features of this digital piano include 64-note polyphony, Flash ROM memory for 3-song, 2-track recorder, 3-layer stereo-sampled grand piano voice, and lots more. You can choose from dark oak on black, and maple on silver wood grain top panels. Most of the online stores I've checked out sell it with a stylish design keyboard stand to match. Click here to shop for new Yamaha digital pianos. 
Top of Yamaha P140 page.

Yamaha music keyboard home page.