Yamaha Nocturne N100 Review
Let's take a look at the Yamaha Nocturne N100 grand digital piano. If you're looking for pure piano pleasure, if you're not into complicated digital pianos, if you find today's technology a bit overwhelming, then this digital piano may just be what you're looking for. As the official Yamaha site says, you can "escape the complicated world" with the Yamaha N100.
Highly Recommended: Go here for the BEST piano/keyboard course I've seen on the Internet.

So the Yamaha Nocturne N100 digital piano is perfect for someone who doesn't want too many "confusing" features. Great for someone looking for a straightforward digital piano. After all, what's the point of paying for extra features that you will never use?
This instrument is all about the sound and feel of a real concert grand piano. I must say that I'm delighted by the sound of the Nocturne N100. If you need a digital piano that sounds like the real thing, you should certainly check out the N100.
Of course, be sure to compare the instrument to other digital pianos in its class before deciding on what you should buy. If you're looking for features like sequencers, song memory, USB, SP/HP control, split, aux in, XG, and so on, this Yamaha keyboard is not for you. As said earlier, it takes the technology away.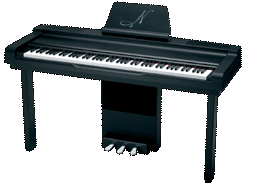 Incredible features include a sleek, black cabinet, 3-level dynamic stereo sampling advanced wave memory, graded hammer effect, 64 notes of polyphony, 3 piano-style foot pedals, special half-pedal, built-in 20W x 20W stereo amplifer, 4 speaker system, backlit touch controls, and MIDI in/out ports.
Personally, I'm not satisfied with the amount of polyphony that this keyboard has. For a digital piano of its class, I was expecting more than 64 notes of polyphony. But then again, since most players would use it as a substitute for a real acoustic piano, there's probably nothing to worry about. If this keyboard came with a sequencer, that would be another story.
The Yamaha Nocturne N100 digital piano comes with 10 of Yamaha's best keyboard voices (including grand piano, electronic piano, strings, and pipe organ). So if you're looking for hundreds of voices (XG voices and so on) you know you need something else. Just check out the many digital piano reviews we have on this site. The keyboard also comes with 50 built-in songs.
Last time I checked, the Yamaha N100 Nocturne digital piano was being sold for about $2300. Be sure to make your comparisions and read various reviews before making a purchase. It's all about the features that a keyboard comes with, and what exactly you're looking for. Remember, you shouldn't pay for features you will have no use for. Click here to learn more about the Yamaha N100 Nocturne digital piano.
Top of Yamaha Nocturne N100 page.
More Yamaha Digital Piano Reviews.