Yamaha KX Series Review
Yamaha KX25, KX49, KX61 & KX8 
Yamaha KX Series Reviews
Yamaha KX25 review
Yamaha KX49 review
Yamaha KX61 review
Yamaha KX8 review
Since these keyboards are largely similar, I decided to take a look at all of them together.
Highly Recommended: Go here for the BEST piano/keyboard course I've seen on the Internet.

The Yamaha KX series comprises the KX25, KX49, KX61 and KX8 keyboards. The main difference between these keyboards is the number of keys they come with and hence their weight. The Yamaha KX25 comes with 25 keys, the Yamaha KX49, 49 keys, the Yamaha KX61, 61 keys, and the Yamaha KX8, 88 keys. The KX8 comes with weighted keys. They weigh 2kg, 3kg, 4.5 kg, and 15.1 kg respectively. But apart from that they are basically the same. What this means is that if you decide that you like this MIDI controller, it's all about deciding what size you really need. For instance a small, slim KX25 or KX49 will fit perfectly in a small studio, maybe a bedroom or home studio.
Yamaha KX25 USB keyboard studio controller
I was impressed by the weight of the Yamaha KX25. It weighs next to nothing. At 2 kilograms, it feels more like a light computer keyboard, not a synthesizer. That meant a lot. But it's up to you and your particular needs. If weighted keys are important to you, if you want the Graded Hammer feel, the KX8 is a natural pick.
The Yamaha KX25 sells for about $299.95, the KX49 for about $349.95, the KX61 for about $399.95 and the KX8 for about $699.95. For all what these keyboards do, in my mind the prices are worth it. Yamaha is a leader when it comes to music keyboards and the same can be said of the Yamaha KX series. I compared them to other MIDI controllers that sell for about the same price and chose the KX series.
What do these keyboards do? Well as said earlier they are MIDI controllers. So they're basically for studio producers or engineers or anyone doing recordings in a studio. You will be delighted by the big performance they give you through smart software integration. Each Yamaha KX keyboard provides a dedicated DAW control section, over 300 one-touch phrases for instant arpeggiation, and assignable synth control section with templates. They come with an impressive software bundle that includes editor software, HALion One, Cubase AI, and thousands of dollars worth of sounds, top-name VST instruments, and rebate coupons and services.
Yamaha KX49 USB keyboard studio controller

(Yamaha KX25 review, Yamaha KX49 review, Yamaha KX61 review, Yamaha KX8 review)
Are you looking for a keyboard that supports creativity and MIDI composition without getting in the way? Are you looking for one that creates an efficient environment that supports production workflow? This is it. When it comes to innovative features with advanced software integration, the Yamaha KX25, Yamaha KX49, Yamaha KX61 and Yamaha KX8 keyboards deliver. All you need for connectivity is a single USB cable.
With a range of drum, bass, guitar, keyboard and other musical phrases built in, you can't go wrong. This minimizes the need for complex manual MIDI data programming. Imagine being able to create complete compositions with just one finger.
Yamaha KX61 USB keyboard studio controller
If you're looking for superior feel and action from a keyboard, you've found it. The knobs, buttons and wheels are all quality made and everything is so comfortable. You get a nice crisp feel by pressing the various buttons on the front panel. There's four assignable control knobs (although I feel there should have been more), dedicated performance controls, and DAW integration controls for soft synths and sequencers functions. Whether on stage or in the studio, you will find the Yamaha Yamaha KX25, Yamaha KX49, Yamaha KX61 and Yamaha KX8 keyboards very comfortable.
You can create songs easily, thanks to the built in argeggio function of the Yamaha KX series. This function was inspired by the Motif ARP phrases and can be played back by the included HALion One softsynth using sound content from the Yamaha Motif or the VST Mega Pack Bundle featuring exclusive content from IK Multimedia, BFD, and Arturia. There's a dedicated control section that enables complete control of sounds and content.
If you're looking for a complete music production solution, this is it. The Yamaha KX series includes Cubase AI, a special Advanced Integration version of Steinberg's legendary music production software. You can conveniently control Cubase AI via a dedicated section on the Yamaha KX. I recommend this keyboard for for anyone who owns Cubase or who plans to use the Cubase AI software. Here's a good place to buy the KX series.
Yamaha KX8 USB keyboard studio controller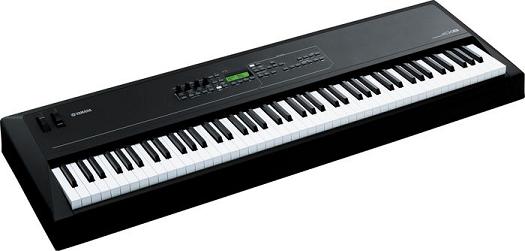 Bundled with the Yamaha KX25, Yamaha KX49, Yamaha KX61 and Yamaha KX8 keyboards is Yamaha's new X Factor DVD. Contained in this DVD is a massive collection of sounds and VST instruments from industry leaders like IK Multmedia, Arturia, Sonic Reality, FXpansion, and Keyfax. As a musican with his own home recording studio, I find this really impressive. It's good to have a wide array of sounds at one's disposal. In addition to this collection of sounds you get thousands of dollars worth of of rebate coupons and added values from Antares, ASK Video, Broadjam, Electronic Musician , Electrix, Garritan, KeytoSound, Obedia, Steinberg, and Tunecore.
Is this series of keyboards perfect? It sure isn't! I was disappointed by the fact that there's no aftertouch. This bothers me as a keyboard player. More assignable buttons would have been better as well. Also I would have loved a control pedal unit. But generally, the good far outweighs the bad.
These are very solid keyboards with strong features at good prices. For the studio owner, producer or engineer in search of expressive control over their virtual instruments, this is it!
I would suggest that you read the various reviews on the Internet to find out what buyers or people who've played this MIDI controller think of it. I myself have seen some very positive reviews as well as a few negative reviews of the Yamaha KX25, Yamaha KX49, Yamaha KX61 and Yamaha KX8 keyboards. And in case you're ready to buy, check out the best prices I've found online here. 
Top of Yamaha KX25, Yamaha KX49, Yamaha KX61 and Yamaha KX8 Reviews