Yamaha DD55 digital drum kit
Is the Yamaha DD55 digital drum pad right for you?
As far as I'm concerned, the DD55 is worth the price. You're only paying a little over $200 and for that price you get your money's worth. If you're looking for a digital drum which gets the job done and you want to save money in the process, then this digital drum kit may be the solution. It's great for those who want a straightforward portable electronic kit with a MIDI interface, and more.
Highly Recommended: Go here for the BEST piano/keyboard course I've seen on the Internet.

If you want something more extravagant, then you've got to be prepared to spend more. But if you don't need additional features why spend more? If I don't need all the extra features that come with a more expensive piece of musical equipment, I always buy the cheaper one.
The Yamaha DD55 digital drum pad comes with 7 touch-sensitive drum pads, tempo control, hand percussion voices, two assignable foot pedals, 100 built-in rhythm styles, 50 programmable drum kits and one user programmable drum kit. I like the way that its touch sensitive feature allows you to add expression to your playing. With the hand percussion feature, you can make use of new Latin drums and play with your hands.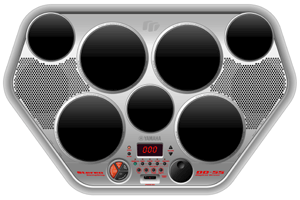 With all these great features, you will be able to make music that you and your audience can be pleased with. Make use of all the incredible features of the DD55 and you'll make people think that they're listening to a professional drum set that's much more expensive. They probably won't know the difference. You'll be delighted by the fact that you can make great music with this drum pad.
Other outstanding features include reverb and chorus effects, a large LED, General MIDI, MIDI In/Out, headphone jack, stereo speakers, 100 built-in songs, song record feature and footswitches. If you want to create good music or you want to have some drumming fun, then the DD55 may be exactly what you need. All the best with your new digital drum kit. Check out the dd55 here.
Return to yamaha musical instruments page.

Return from yamaha dd55 page to yamaha keyboard home page.