Review of the Yamaha CP300 digital piano.
Yamaha CP300 Review
Finally, I got a chance to check out the Yamaha CP 300 88 key digital piano. I guess I've just been very busy these days. lol. What can I say? Well first of all the price should give you an indication of the kind of instrument we're dealing with. The Yamaha CP300 digital piano sells for a little over 2000 bucks, about $2,200.00. If you're shopping around for a top of the line digital piano, the CP 300 is certainly worth trying out. It was released in the spring of 2006.
Highly Recommended: Go here for the BEST piano/keyboard course I've seen on the Internet.

As I write, this digital piano is the latest and greatest in the CP series, a series that is known for authentic sound and live performance convenience. It's been thirty years since the CP series was introduced, but now the Yamaha CP 300 stage piano has taken everything to a higher level. You can expect the expressiveness and sound that CP series stage pianos are known for, but let's go into more detail.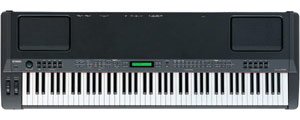 Some of the incredible features on this Yamaha keyboard include 88, Graded Hammer keyboard, AWM tone generation system, 128 note polyphony, 50 original voices, 480 XG voices, 12 drum kits, various effects, five-band master equalizer, MIDI, stereo speaker system, 16 track sequencer, usb terminal, pitch bend and modulation wheels, four pedal connectors, balanced XLR outputs, and much more. This should give you an idea of the sophistication of the instrument.
Needless to say that this is a great substitute for an acoustic piano. The touch is similar to that of an acoustic. Expect nothing but expressive power, thanks to the Graded Hammer Effect that Yamaha digital pianos are known for.
What do I think about the sounds of the Yamaha CP300? Generally, Yamaha has done a fine job at providing truly authentic piano, organ, guitar, string voices, and so on. I mean they're charging you over 2000 bucks, so what do you expect?
One feature I really like is the Panel Lock Button. Just press that button and your settings stay fixed until you unlock the keyboard yourself, when you're ready to do so. That way if you or someone for that matter, accidentally press a panel button during a live performance you do not have to worry. Everything will go smoothly during your performance and your settings won't change.
You should also be delighted by the fact that the Yamaha CP300 keyboard gives you the same pedal control as an actual grand piano. The keyboard comes with sustain, soft and sostenuto jacks. You can even partially apply sustain on certain piano sounds, thus producing a half-damper effect. In addition there is a fourth pedal input that can be used for controlling various sound settings, such as reverb, chorus, or the brightness of the sound.
Should you buy this digital piano? Well it's up to you to decide whether it meets your needs or not. It is a top of the line keyboard but before purchasing ensure that you compare it with different keyboards in its price category to decide whether it has the important features you need. The sound is great, the features are great, but you must make your comparisons before dishing out 2200 dollars. There are several other Yamaha digital pianos on this site that you may want to check out. And although I am a Yamaha keyboard lover, it's all about what works for you and how much you're prepared to spend.
Top of Yamaha CP300 page.
More Yamaha Digital Piano Reviews.